[toc]The fight to have new casinos built in northern New Jersey isn't just an internal battle anymore.
The New York Daily News recently reported that interests in New York are getting involved in New Jersey politics, trying to push back against a November referendum on casinos outside of Atlantic City.
Major union against North Jersey casinos
So far, there are two groups coming out publicly against the referendum, according to the NYDN: a union and a racino.
The New York Hotel and Motel Trades Council is starting "a television and digital ad campaign against the referendum," which would allow licenses for up to two casinos in the northern part of NJ, if approved by voters.
The AFL-CIO affiliated union is also aligned with a union that is currently striking at the Trump Taj Mahal in Atlantic City. Interests in AC and South Jersey are generally against the referendum.
More from the NYDN:
The union opposes the referendum because the legislation that allowed for it does not include a labor peace provision that would stop casino owners from blocking union organizing efforts. New York's casino law included such a provision.

"Our union has built a strong standard for gaming workers in the tri-state area, and until we have concrete assurances that those standards will be met, we will oppose any efforts to expand gaming into North Jersey," said union President Peter Ward.
Racino comes out against new NJ casinos
Also against the ballot measure is Resorts World Casino at Aqueduct Racetrack. NY casinos, understandably, are not excited about the prospect of more regional casino competition, which it already has from AC, Pennsylvania and Connecticut.
The Queens racino, which the closest gaming facility in the state to New Jersey, is behind a website/group called Trenton's Bad Bet.
Here is one of its commercials: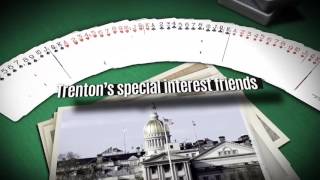 Resorts World Casino would likely be the hardest hit of any of NY's gaming facilities if NJ approves the gambling expansion.
There is also the possibility that the New York legislature would lift a freeze on allowing a new commercial casino license in the New York City area if NJ enacts the referendum.
Also NY support for North Jersey casinos
New York interests are getting involved in support of the referendum, too.
Jeff Gural, who operates Meadowlands Racetrack, is pushing for the new NJ casinos. Meadowlands, near New York, would be one of the logical places for such a gaming license to be approved.
How will it all play out? Polls have put the referendum at anything from a dead heat to a majority being against the expansion.
But it does appear New York will play a role in which side will win.