College Basketball Odds at NY Sportsbooks
As the recognized mecca of hoops, there's a whole lot more to watch in New York beyond the Knicks and Nets. From streetball to college to the pro level, NY has been home to some of the most legendary basketball players of all time.
On the college front, there's a major pipeline from NYC into Division I programs, and several of the top local teams have racked up conference titles and shined on the March Madness stage. Now that NY mobile betting apps are up and running, you can take your love of hoops to a whole new level. Here's how to get in on college basketball betting online in NY right now.
Top NY sportsbooks for college basketball odds
Rank
Sportsbooks
Bonus
Feature
Play
Get Up to $1,000

In Second Chance Bets
Get up to $1,000 in Second Chance Bets
10 Bonus Bets up to $100 each
To Claim: Click Play Now

Up To $100 in Bet Credits
ONLY 1x Play Through!

Use Exclusive Affiliate Code: PLAYNY
Up to $200 in Bonus Bets
Available on Desktop, Android & iOS

To Claim: Click Play Now

AROUND THE CLOCK ODDS
Use Bonus Code: PLAYNY
Redeem BETMGM Rewards

Exclusive Vegas Discount!
Free Live Streaming - Watch Live Games
Use Bonus Code: PLAYNY
Best NCAAB lines – spread, moneyline, over/under
From the heart of the regular season straight through to March Madness betting, the college basketball schedule is packed with games. Find a snapshot of the latest spreads, moneylines and totals for tonight's NCAAB games. These are real-time college basketball odds from top online sportsbooks.
Best NCAAB betting app in NY
If you're looking for the whole package that seems to do everything right, then be sure to check out the DraftKings sportsbook app.
The recognized leader in the world of daily fantasy sports has also emerged as a go-to option for sports betting in several legal states. The app is slick and easy to use.
DraftKings isn't shy with dishing out regular NCAAB betting promos such as odds boosts and parlay insurance. For live betting, this has become a preferred destination for scores of bettors.
There are plenty of reasons why DraftKings sportsbook consistently receives high marks across the industry and has attracted a boatload of users. For mobile sports betting, this is an outstanding option to consider.
How to bet on college basketball online in NY
Legal online sports betting is now the real deal in NY. For NCAAB betting, there are important in-state restrictions to keep in mind. In NY, betting on local schools or collegiate events taking place in the state is prohibited.
That means no bets on clubs like Syracuse or St. John's, or any college hoops contests at Madison Square Garden regardless of who is playing. NJ has the same restrictions in place for schools in that state, as well as on any events that take place there. However, neighboring PA doesn't put up either of those roadblocks.
How to download a sportsbook app and claim your bonus
Getting up and running with an online sports betting account is really simple. From start to finish, you're looking at an investment of just a few minutes. If you go through the following steps, you'll be up and running quickly.
To create a new sportsbook account, start by clicking through on our exclusive links. This will give you access to the best possible sign-up offers.
Once you get to the registration page, enter the requested info. It's all simple stuff like name, address, etc.
After all your details are in, you'll have to check off some boxes and verify everything is correct. Next, click submit and your new account will be created instantly.
If your bonus offer is for site credits, they'll be credited to your account right away. You can deposit funds immediately to take advantage of any deposit match bonus offers.
Download the app for your device right from the sportsbook website and log in on the app for the first time.
Start browsing for available opportunities by clicking on the College Basketball or NCAAB tab. Once you find what you like, click the odds to see your bet and its potential pay out in your betting slip. Click "confirm" to lock your bet in at those odds.
That's a total of six steps to gain access to a real, legal online sportsbook. The process can be completed very simply from your computer, tablet, or smartphone. To place bets, you must be within state lines. Sites will use geolocation tracking to verify that you are.
NCAAB live (in-game) betting
There are plenty of different betting options to explore before the tip-off of the game, but the action doesn't end there. Live college basketball betting opens the doors to even more opportunities as the games play out in real-time.
To take advantage of all that live betting has to offer, a sportsbook app is the preferred method for most frequent sports bettors. Odds are constantly updating so to be able to jump on what you like in real-time, the accessibility of the betting window becomes an issue. On a sportsbook app, that's resolved in seconds. Winning bets also get paid out just as quickly which allows you to reinvest in ongoing games.
To get started with a sportsbook app, just follow the simple process we've laid out up above. When the game you are interested in gets underway, just scroll over to the live betting tab for currently available options. There will be updated odds for main bets like moneyline, spread, and totals, as well as various prop betting opportunities to explore as the action plays out on the court.
Bet on Fordham/Iona/St. John's/Buffalo/Syracuse
New York is a hotbed for college basketball with nearly two dozen schools that compete at the D1 level. Since there's so many programs across the state, that's even more chances to have some home rooting interest once tournament time rolls around.
Here's a peek at some of the key details for a handful of the top NY NCAAB programs.
Fordham Rams
Conference: Atlantic 10
Home games: Rose Hill Gymnasium in Bronx, NY
NCAA tournament appearances: 4 – last in 1992
NIT appearances: 16 – last in 1991
Conference titles: 3 – last in 1994
Iona Gaels
Conference: MAAC
Home games: Hynes Athletic Center in New Rochelle, NY
NCAA tournament appearances: 15 – last in 2021
NIT appearances: 6 – last in 2015
Conference titles: 12 – last in 2019
St. John's Red Storm
Conference: Big East
Home games: Carnesecca Arena and Madison Square Garden in NYC
NCAA tournament appearances: 30 – last in 2019
NIT appearances: 30 – last in 2014
Conference titles: 3 – last in 2000
Buffalo Bulls
Conference: Mid-American
Home games: Alumni Arena in Buffalo, NY
NCAA tournament appearances: 4 – last in 2019
NIT appearances: 2 – last in 2021
Conference titles: 4 – last in 2019
Syracuse Orange
Conference: ACC
Home games: Carrier Dome in Syracuse, NY
NCAA tournament appearances: 41 – last in 2021
NIT appearances: 13 – last in 2017
Conference titles: 8 – last in 2006
In terms of overall March Madness success, Syracuse is at the top of the NCAAB hoops scene in NY. The team won it all in 2003 and lost in the final game in both 1987 and 1996. The program has made it to the Final Four six times, advanced to the Elite Eight 10 times, and made it as far as the Sweet Sixteen 23 times.
Why NCAAB betting is great for beginners
No matter where you are in terms of experience, betting on NCAAB can be a very enjoyable pursuit. For those new to the game, getting up to speed won't take too long. On the experienced side, consider the fact that many seasoned handicappers make the sport a focal point of their overall betting strategy. Here are some top reasons to get involved.
Tons of choices: Once you get the basics down, there are a number of different strategies to consider with NCAAB betting. You can pick out a bet type or two that you like and focus there, or adapt your wagers based on what you uncover in your research. A similar approach can be taken with the games themselves. You can stick to marquee matchups or find a conference or two that you want to follow exclusively. Choices abound with NCAAB.
Lots of coverage: College hoops takes center stage for several months in the winter. There are always lots of games on the dial, and plenty of coverage to be found online or via social media. On the TV side, there will be several different intriguing options to consider every day. There are also lots of outstanding resources out there which can help you with research. NCAAB receives lots of attention in betting circles, so you won't be lacking for options.
Fun and entertaining: While the goal for all bettors is to turn a profit, it should also be a fun and enjoyable pursuit. NCAAB doesn't just attract a bunch of interest because it's great for betting. It also happens to be a very fun and entertaining sport. If you like hoops at its purest level, you'll love it. As an added bonus, you can get a sneak peek at the NBA stars of tomorrow. Once you get up to speed, you'll see there's a lot to love with NCAAB.
How to read NCAAB betting lines
As mentioned earlier, you'll find lots of games to consider on the average slate of NCAAB. For each game available for betting, sportsbooks will release odds. At online and mobile sportsbooks, you can find the upcoming games by clicking on either the NCAAB or basketball tab and choosing college. Once you do that, the main lobby will populate with game listings.
Villanova +1.5 (-110)      +100                O 134.5 (-110)
Virginia -1.5 (-110)       -125                 U 134.5 (-110)
When browsing through the games, the default is for road teams on top and home squads on the bottom. Next to the two team names will be the college basketball betting lines for three main wager types. If we read from left to right on our example listing up above, these are the numbers for the point spread, moneyline, and totals bets. Here's how they work.
Moneyline: A simple bet in which you just have to pick the winner.
Point spread: You can pick the favorite minus the points or the underdog plus the spread.
Over/Under: Choose the Over or Under on a benchmark total set by the oddsmakers.
When reading the spread and moneyline, negative numbers indicate favorites. Over on the underdog side, the numbers are positive. For our example, Virginia is a 1.5-point favorite on the spread and favored on the moneyline. To cover the spread, they'll need to win by two points or more, such as 70-68. A win of 71-70 would mean they've failed to cover.
If you choose Villanova plus the points, they need to keep the margin to one point or win the game outright to cover. A Virginia win of 67-64 would be a miss, but a 72-71 loss would work. For spreads and totals, you'll see the numbers set by oddsmakers — 1.5 and 134.5 in this case — and the actual odds for placing the bet.
The default odds for these wagers are -110 at most sportsbooks, but they can and will move in response to market action. You can always shop around to find the best prices. For returns, a negative number tells you how much you'd have to wager to get $100 back — i.e. $110 at -110 — while positive numbers tell you the profit for a $100 winner — i.e. $100 at +100.
Betting on March Madness in NY
March Madness is one of the biggest betting events of the year. Online and mobile sportsbooks go all out as a result, so you can expect to see plenty of different promos around this time. Here in NY, there's lots of history for the NCAA DI men's basketball tournament to be found. In years past, the state has served as a regional hub for various rounds of the tourney.
Since more than 20 programs are playing at the D1 level, there's a good chance that some local favorites could be in the spotlight. However, remember that you can't bet on in-state teams or events. All of the typical bet types will be available for each March Madness game, and you can even project things out with some futures bets on which teams will win their bracket, who will make the Final Four, and which squad will win it all.
Speaking of brackets, that's a huge part of the equation when the tournament comes around. Bracket competitions are almost a rite of passage into the spring, whether it's a local pool or a massive one online. Sportsbooks may offer up some contests of this nature too, so keep your eyes out.
In terms of what's better between brackets or betting, it doesn't have to be an either-or situation. You can have some fun with both, and hopefully turn a profit when all is said and done. As an example, here's how you could spread around a $100 budget for March Madness betting.
$70 for single-game bets via your favorite bet types
$15 for parlays and live betting
$15 for bracket contests
As a bonus, any nuggets you uncover while researching for one or the other will prove to be quite useful for both types of contests. There's nothing quite like March Madness. Here in NY and surrounding areas, we can all get in on the fun and excitement like never before.
Top all-time NCAAB tournament results for NY schools 
Each year, March Madness is filled with memorable moments. Buzzer beaters, upsets, unbelievable shots, and momentum-changing plays are all on the menu for several glorious weeks. Naturally, those memories become ingrained even further when it has to do with a local favorite. Here's a pair of the most memorable moments in NY basketball lore.
Syracuse wins it all in 2003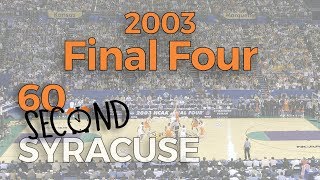 The Orange are regular participants in the tourney, but the program was only able to seal the deal once. Syracuse took down Kansas in a thrilling final by a score of 81-78 to win the crown in 2003. While defeats in the 1987 and 1996 finals still sting, the title run helped lessen it tremendously.
St. John's makes Final Four in 1985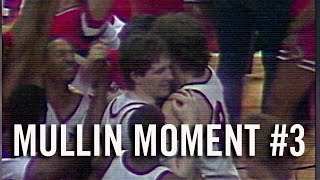 Big East basketball was a thing to behold in the 1980s. Star players were everywhere, including at St.John's with Chris Mullin and Mark Jackson leading the way. The club made it to the Final Four before being upended by rival Georgetown, but it was quite the memorable run nonetheless.
In more recent times, the Stony Brook Seawolves earned their first berth to the dance in 2016. While the club was defeated by Kentucky handily in the first round, the team was a big source of local pride for making it that far to begin with. The March Madness annals are still being written, so it'll be interesting to see which NY teams make some memories in the coming years.
Bet on the NIT in NY
While March Madness is the main event, that's not the only thing to see with postseason college basketball. The National Invitation Tournament stretches its roots back to 1938. In the modern era, it's essentially a tournament for the next 32 best schools that didn't make it to the big show. Since there are 340+ DI programs across the nation, a lot of quality clubs get snubbed.
The NIT serves as a showcase for these schools, and it has traditionally been quite an entertaining event. Early rounds may be held at regional sites, but the latter stages are reserved for Madison Square Garden. On the local front, St. John's lays claim to the most all-time NIT crowns with five.
You'll find odds and lines for all NIT games at your sportsbook of choice, but remember the deal when contests are being held in NY: you'll have to go to NJ or PA for online and mobile betting for those games. If you're looking to score tickets, the NIT page at NCAA.com can point you in the right direction.
Why stick to legal sportsbooks for NCAAB betting in NY
Legal sports betting continues to grow at a tremendous pace. The list of legal states continues to grow larger, and there are plenty of options for consumers to explore as a result. Despite that, there remains a large black market for illicit gambling. In today's day and age, it's just not a risk worth taking for several reasons.
At the top of the list is this: safety. When a sportsbook enters a legal state and sets up shop, that means they've had to go through a rigorous application process while investing heavily. State gambling authorities oversee things to make sure everything is on the up and up. Any funds you leave on-site are protected as a result, and you'll be paid out when you win.
In the world of offshore sportsbooks, no such protections are in place. There are no guarantees that your money will be safe, and there have been plenty of fly-by-night shops that have disappeared through the years. While these operators claim to be good to go due to legal grey areas, users don't have much in the way of recourse when complaints arise.
You should only be taking your business to legal and regulated sportsbooks. By doing so, you'll take those concerns out of the equation. All of our recommended operators are completely legit. Your money will be safe and you'll get your winnings in a timely fashion. If you stick with those sportsbooks, you'll be good to go if any questions happen to come up to boot.
Sportsbook rules for NCAA basketball
When you get set to play at any new sportsbook, it's always a good idea to review the house rules for sports you're interested in wagering on. They outline all the ins and outs for betting on that sport and cover all of the ins and outs. Some books have a dedicated section for house rules, while others require going through the help of the FAQ section.
Many of the rules are standard practice across the industry, but there may be some slight variances here and there. For betting on NCAAB, here's the gist of what you need to know.
When games officially get underway, all placed bets are considered action.
For a slight delay, bets should remain live. In the event of an unexpected postponement or cancellation, bets will be considered void and refunded.
The settlement of all wagers are based on official results and statistics.
The sportsbook will not entertain disputes about results you are unhappy with — i.e. bad beat, questionable officiating call on the pivotal play, etc.
No matter where you play, you should have a handle on the rules of the road to avoid any surprises. To play at NY sportsbooks, you must meet the following requirements.
21 years of age or older
Not on any self-exclusion lists for gambling
Located within state lines
League personnel are prohibited from wagering on their sports, so keep that in mind. You need to be within state lines to place bets. Sportsbooks verify user location with the assistance of geolocation tracking software, which runs in the background and only tracks location for betting purposes.
Vegas sportsbook odds vs. NY sportsbook odds
For decades, the place to be for the best sports betting odds was out in Las Vegas. The recognized sports betting capital of the world continues to hold that mantle, but things are changing in the growing legal environment. While there are still very talented oddsmakers out in Las Vegas, local sportsbooks are doing a fantastic job as well.
If you compare the numbers from Vegas to local shops, you'll see that they're very comparable. They won't be the same due to market action, but you'll find that the overall range is on point. The same holds when you compare the numbers at local sportsbooks: there will be some variance based on how the money is flowing, but they're close overall.
When handicapping NCAAB games, there's nothing wrong with checking out the odds from Vegas to get a sense of the overall market. However, you should know that you'll be finding real similar numbers here at home. The odds from the desert certainly deserve to be respected, but they're not the only word to follow on sports betting anymore.