As Nick Dais says at the start of "How Legal New York Sports Betting Would Change a Podcaster's Life", New York is the mecca. As a New Yorker, Dais is inclined to believe NYC is the heart of the nation, that is unless it comes to his favorite pastime. The podcast host of shows like Veterans Minimum and Degeneration Bets is an avid sports bettor. In order to legally bet, he has to take the train to New Jersey.
Is now the time the law changes and Nick can stay in the Big Apple for betting? Watch and see more about Nick's life and what a difference NY online sportsbooks would make for him and for every New York sports fan:
"How Legal New York Sports Betting Would Change a Podcaster's Life"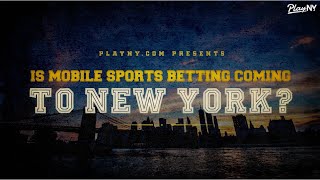 More about Nick Dais and producer Matt Showell
Certainly, the documentary speaks for itself, but there are plenty of topics to mine beyond just the video itself.
Matt Showell of Snap Call Media is no stranger to American sports betting. He has made similar films about Michigan sports betting, the launch of Colorado sportsbooks in a pandemic, and, New York's neighbor, New Jersey.
What is different about this New York story is it focuses on an individual. For Showell, that was a major appeal of the project.
"Documentaries that let us get to know someone are definitely the most rewarding and interesting work we do," Showell explained. Showell produced the film, while his colleague Dan Rocque did the groundwork of finding Dais and taking the time to get to know him and his story.
Focusing on Dais' individual story also helped the filmmakers draw on themes that plenty of people can relate to. Showell added:
"I was interested in this story because I'd read all about how people were taking the train across the river from NYC to bet on sports legally in New Jersey. The idea that hundreds of millions of dollars in bets every year are traveling that short distance and into a completely different state seemed wild to me."
Dais is the perfect NY sports betting spokesperson
As to how Rocque ended up finding his subject? Well, according to Dais, it was the result of Dais's penchant for keeping numerous social media accounts and posting everywhere all the time.
"He discovered me on the internet," Dais said with a laugh. "Isn't that how everyone gets discovered?"
It isn't fair to say Rocque discovered Dais either. He has been profiled in previous stories about sports betting, including a piece for Esquire (paywall).
Dais's willingness to be open about his sports betting is great for the documentary but is also just how Dais tends to be about everything.
"I sort of pride myself on being very very transparent with my audience. I talk about sensitive topics with my audience, like mental health. There's a sense of trust with my audience. That's why I am not afraid to talk about things like this," he said.
Dais worries that, while sports betting is becoming more mainstream, it is still a ways away from acceptance from everyone. When it comes to mental health, the stress and ostracization of avid betting is one of the things he worries most about.
"So many people [sports bet] based on the numbers that you heard…But there's still a level of embarrassment that people have towards it. That negative stigma is gonna take a while to go away."
Betting documentary the capstone of New York kid's ascent
Showell noted one of the great things about Dais is his positivity and his drive. For Dais though, this story wasn't always guaranteed a happy ending.
It is charming to hear Dais explain his start in sports betting.
"You know, fathers and sons have these unique relationships. For me, it was always talking sports betting with my pops," Dais recalled. There were others in his family who were not happy to see his dad teaching such a habit to his son. They would ask things like, "Why show your kid how to gamble?"
Now that Dais has gained popularity and success through his podcasting and his sports betting, the family is starting to come around. Dais said:
"Now, over the last two to three years with the momentum of my show and getting asked to speak on projects like this documentary, it's kind of validating that my dad introduced me to this and I turned it into a blessing more than a curse."
Like Showell said, Dais is a story just about any New York kid and his dad can relate to. It is the story of a kid made good, doing his father proud.