What once seemed like a pipe dream will soon become reality: New York is getting online sports betting apps.
Within the near future, legal online sports betting in the Empire State will feature nine online sportsbooks from some of the most popular and renowned operators in the country:
FanDuel
DraftKings
BetMGM
Bally Bet
Caesars
PointsBet
BetRivers
Resorts World
WynnBet
The New York State Gaming Commission selected these in November 2021. Now regulators just need to finalize regulations for the online betting industry. And along the way, they will need to perform background checks and test technology of these mobile betting providers before apps can begin rolling out. In addition, the selected platforms must set up mobile servers at any one of the four commercial casinos in New York.
We are here to keep tabs on all the news leading up to the launch of NY sports betting apps, so bookmark the page and keep checking in for the latest news.
Nov. 30, 2021
Top 5 Sporting Events To Bet On In NY Following Sports Betting Launch
While there is still no firm date for the first online sportsbook to launch in New York, that doesn't mean you can't look ahead.
NY hopes to have online sports betting fully up and running by the Super Bowl on Feb. 13, and January bets are still a realistic possibility.
So what events might you be able to bet on? PlayNY takes a look at some intriguing possibilities.
1. NFL Wild Card Weekend, Jan. 15-17
This will be the first time the league has a Monday night matchup in addition to two Saturday games and three Sunday games. Even with a soft launch, it could be a betting bonanza for NY, the perfect way to usher in a new era for the state.
Nov. 29, 2021
Mets A Hot Bet To Win 2022 World Series After Signing Max Scherzer
New York Mets owner Steve Cohen quickly went from being Mad Online to spending like a drunken sailor and adding Mad Max.
As a result, there has been a collective mad dash from sports bettors to put their money on the Amazins' to win it all.
The Mets added Max Scherzer on a three-year, $130 million deal that includes an opt-out after Year 2, a baseball source confirmed to PlayNY. The deal, which is not yet been made official by the team, includes a full no-trade clause.
Sports bettors used to be able to get the Mets at around +2,000 as far as World Series futures are concerned.
Nov. 24, 2021
State Register Adopts Rules, Regulations For NY Online Sports Betting
The rules and regulations governing online sports betting in New York were adopted by the state register Wednesday.
This came as no surprise, as NY betting apps anticipate a full launch in early 2022.
The final steps before sportsbooks can accept the first legal bets include setting up servers at commercial casinos and having regulators inspect and approve setup and platform tech.
Nov. 23, 2021
New Bill Would Add Horse Racing To NY Online Sports Betting, Allow Stadium Betting Lounges
New York State Sen. Joe Addabbo has sponsored a new bill to expand online sports betting.
The bill, if passed, would allow for fixed-odds NY horse racing to be included on the apps.
In addition, betting kiosks would be allowed at arenas, stadiums, racetracks, OTBs and VLTs.
"We haven't even taken our first mobile bet, but I'm already thinking about how to improve it," Addabbo told PlayNY.
Nov. 22, 2021
Massive 51% Tax Rate Could Have Ripple Effect On NY's Online Sports Bettors
New York State Assemblyman Gary Pretlow never wanted massive tax rates for online sports betting operators. That was former Gov. Andrew Cuomo and his administration.
50% or greater? No thank you.
"I was opposed to (Cuomo's) plan from the beginning," Pretlow told PlayNY in October. "Everybody knows that."
As it has been well-documented, though, lawmakers and regulators went with a 51% tax rate that easily stands as the highest such rate in the country. And that steep cost could have a ripple effect on the overall online NY sports betting experience.
Nov. 19, 2021
Sen. Addabbo To Request That All NY Online Sports Betting Providers Launch On Same Day
New York State Sen. Joe Addabbo plans to make a request to the New York State Gaming Commission that all online sports betting providers and operators launch on the same day in the Empire State.
Addabbo believes the NYSGC, led by Executive Director Rob Williams, should select the date when servers are functional and pass state regulations — or at least with the process is close to reaching its conclusion.
As of now, the NYSGC can conceivably clear sportsbooks to begin operating on an individual basis once they check all the necessary boxes. Addabbo remains optimistic that online sports betting will be up and running by the NFL playoffs in January, and certainly by the Feb. 13 Super Bowl, "as of now."
"I don't believe it bodes well for the consumer or the state if everybody starts haphazardly," Addabbo told PlayNY. "I think there should be a definitive date for everyone."
Nov. 17, 2021
New York Knicks welcome Caesars Sportsbook to family
About a week after forming a partnership with BetMGM, Madison Square Garden, the New York Knicks and the New York Rangers entered into a sports betting agreement with Caesars Sportsbook.
As part of the deal, Caesars will set up a "branded, premium hospitality space" inside the arena. Open for all Knicks and Rangers games, as well as during other special events, the area will welcome Caesars New York users as well as Caesars Rewards members.
The goal is for this space to be open in time for the 2022-23 Knicks and Rangers seasons and will feature special guest appearances and giveaways.
Nov. 17, 2021
Barstool's Dave Portnoy Happy To Be Left Out of NY … But Not Really
Barstool founder Dave Portnoy still seems bitter about losing out on New York.
In what amounted to more sour grapes, Portnoy sounded a lot like Penn National CEO Jay Snowden when asked about the company's disappointment over not getting an online sports betting license in the Empire State.
"(It's) mixed," Portnoy said during Barstool's The Dave Portnoy Show With Eddie & Co. "I've talked about it. The tax rate in New York is ridiculous, it's 51%. I think it's like (13%) in New Jersey, to give you an idea. So nobody is going to make money," Portnoy said in a video posted on Barstool.
"These companies that are already getting smashed and bleeding money are going to get killed in New York City. They're going to have to spend millions, billions to compete, and they're going to have to give all their profits away."
Nov. 17, 2021
Work Remains Before New NY Online Sports Betting Can Launch
New York is on the verge of launching legalized online sports betting.
But before that can happen, before the first NY betting apps roll out in early 2022, some boxes remain unchecked by providers and operators, namely making sure servers are secure and operational for customers to be able to place their bets.
As Sen. Joe Addabbo told PlayNY in a recent interview: "The servers will always be, if not a concern of mine, something that I need to focus on. Because every time I interact or email (NY State Gaming Commission executive director) Rob Williams, it's about the servers now. We have to get them up and running, because that's what validates the mobile bet."
Nov. 16, 2021
NY Online Sports Betting FAQs: Everything You Need To Know
Legalized online sports betting is coming to New York, and the hope is it will be fully up and running by the Super Bowl on Feb. 13, 2022.
PlayNY is here to answer some of the questions you may have.
Nov. 15, 2021
Ex-Giant Victor Cruz Joins Prophet Exchange As Strategic Partner, Advisor
Victor Cruz has become the latest former professional athlete to partner with a sports betting company. The ex-Giant WR joined NJ-based Prophet Exchange as a strategic partner and advisor, according to a news release.
According to the release, Prophet Exchange is the first pure peer-to-peer US sports betting exchange. It allows users to set prices for others to bet on. Prophet Exchange launched pre-registration in October 2021.
Cruz went from signing as an undrafted free agent to becoming a Super Bowl winner and Pro Bowler.
Nov. 12, 2021
NY Sports Betting Sees Record-Setting $25.6 Million In October Handle
With the NFL back, New York enjoyed a record-setting month in terms of sports betting handle at its four upstate commercial casinos.
Rivers, del Lago, Resorts World and Tioga Downs combined to pull in a record $25.6 million in wagers placed during October, according to reports from the New York State Gaming Commission.
With that translating to over $1.7 million in revenue, the casino industry as a whole saw nearly $60.5 million in gross gaming revenue last month.
Nov. 11, 2021
NHL Exec On NY Online Sports Betting: 'Tax Rates That Are 51% Aren't Going To Be Helpful'
Many aren't happy with the online sports betting structure set up in New York.
Ken Wachtel, chief business officer for the NHL, became the latest executive to drive that point across.
"Tax rates that are 51% aren't going to be helpful," Wachtel said at the Sports Business Journal Conference in New York. He offered insight into US betting expansion and what he's keeping his eyes on from the NHL's perspective. "I know a lot of sports betting operators sit there and say the same thing."
Nov. 10, 2021
MSG, Knicks, Rangers Form Multi-Year Sports Betting Partnership With BetMGM
New York has nine new sports betting operators, and the sports betting partnership craze for its professional teams has only just begun.
Madison Square Garden, the New York Knicks and New York Rangers have a multi-year sports betting partnership with BetMGM, the sides announced in a Tuesday news release.
The New York State Gaming Commission officially selected BetMGM as an online sports betting operator in the Empire State on Monday. Fans at MSG could potentially be betting on their teams from the arena in January.
Nov. 9, 2021
With Operators Chosen, Could Online Sports Betting Kick Off By NFL Playoffs?
Could legalized online sports betting in New York be fully up and running by the NFL playoffs in January?
That would be ahead of the state's goal of the Feb. 13 Super Bowl.
But Sen. Joseph Addabbo, long an advocate of online sports betting in the Empire State, believes it is feasible.
"The NFL playoffs in January, I think that's totally possible," Addabbo told PlayNY after the New York State Gaming Commission approved nine operators for licenses in the state at a 51% tax rate.
Nov. 8, 2021
Winning Bidders Announced For Online Sports Betting Licenses
At long last, it feels like legalized online sports betting is really coming to New York. And it just might be here in time for the Super Bowl.
On Monday afternoon, the New York State Gaming Commission selected nine operators to receive licenses to offer NY online sports betting. The fine nine will pay a 51% tax on their revenue, by far the highest commercial rate in the country.
The chosen operators were part of the widely favored consortiums that included most of the biggest brands in the country. The term is for 10 years.
Super Bid 1
FanDuel
DraftKings
BetMGM
Bally Bet
Super Bid 2
Caesars
PointsBet
BetRivers
Resorts World
WynnBet
Nov. 5, 2021
DraftKings CEO: High Taxes Will Suppress Sports Betting Promos In NY
Online sports bettors in New York could see fewer promotions than their fellow punters in other states. Operators expect their NY sports betting revenue to be taxed at a rate of 50-51%, making long-term profitability an uphill climb.
"If we were to be awarded a license, I think we feel just like we do in other states that we can achieve the same long-term profit margins in New York," DraftKings CEO Jason Robins said during his company's Q3 earnings call.
"There's a lot of levers we can pull, such as cutting back on the rate of promotion, and spending less on external marketing. Those are things I would expect everybody in the industry to do, because I don't think anyone's going to want to run long-term at an unprofitable rate in any state."
Nov. 4, 2021
MGM Officials Expect 'Nine or Ten' Online Sportsbooks In NY
Executives for MGM Resorts anticipate a market with "nine or ten" online sports betting operators when the winning bids are revealed in New York. That would put the tax rate at either 51% or 50%, respectively.
The question, of course, is whether or not BetMGM will be among them.
As of today, most industry sources expect the two Super Bids to emerge victorious:
Super Bid 1: FanDuel, DraftKings, BetMGM, Bally's
Super Bid 2: Caesars, PointsBet, Wynn Bet, BetRivers, Resorts World
"It's probably going to end up at 50%," MGM CEO Bill Hornbuckle said during the company's Q3 earnings call this week. "Time will tell, but I think that's what we're all contemplating. And it'll be nine or ten operators, give or take."
Nov. 3, 2021
Penn CEO: No Money To Be Made For Sports Betting Operators In NY
Penn National Gaming CEO Jay Snowden doesn't think online sports betting operators will be able to make money in New York under a tax rate that will likely be 50% or higher.
"The state is going to make money. I don't think a single operator will make money in New York," Snowden, whose group could be left out of NY, said during his company's latest earnings call.
"So I've always struggled with that. Would you rather be in or not? I think objectively speaking, you'd probably rather be in than not be in. But it's one of those states where if you're not in, you're not crushed by it either."
Nov. 2, 2021
New York May Announce Winning Sportsbook Bids This Week
The bidding process for online sports betting in New York is close to the finish line.
The state could name the winners as early as this week, an industry source confirmed to PlayNY.
Industry sources believe that the process could end with nine sports betting operators paying a 51% tax rate.
Oct. 29, 2021
Mets Discuss Potential For NY Casino Near Citi Field
Mets owner Steve Cohen has had preliminary talks with Las Vegas Sands exploring the possibility of a casino next to Citi Field in Queens, a source confirmed to PlayNY.
"Steve thinks that Willets Point needs to be addressed long-term — it's a mess," a Mets spokesperson said. "He has been hearing lots of ideas and the Mets want to be part of those conversations to ensure the interests of our fans and the local community are well represented."
Oct. 26, 2021
GeoComply: Connecticut Cashing In On NY Sports Betting Delays
New Yorkers continue to head elsewhere to place their sports bets online. Connecticut is just the latest surrounding state to cash in.
According to data from GeoComply, 38% of the betting activity in Connecticut has occurred in the southwestern corner of the state along the I-95 corridor.
Government relations executive Chad Kornett noted that Stamford, Bridgeport, and other highway entry points stretching north near the New York border are seeing significant activity.
Since launch, more than 1.2 million sports wagers have been placed legally in Connecticut.
Oct. 23, 2021
Assembly Sponsor Wants A Word With NY Governor On Sports Betting
Assemblyman Gary Pretlow told PlayNY that he plans to call Gov. Kathy Hochul's administration Thursday afternoon to express his concerns about online sports betting in New York.
The NYS Gaming Commission this week finalized its tax rate matrix, which ranges from 35-64% based on the numbers of operators and platform providers who receive licenses.
Pretlow wanted an open competition, but his last-ditch effort didn't find any traction.
"The legislature passed a law that required the Gaming Commission to undertake a competitive process, and that is exactly what they are doing," a spokesman for Gov. Hochul told PlayNY. "In addition, the Hochul Administration will not interfere in any way with the competitive bid process."
Oct. 21, 2021
NYSGC Issues RFI On Three Remaining Casino Licenses
The New York State Gaming Commission has issued a request for information regarding interest in the three unawarded commercial casino licenses. The NYSGC announced the RFI on Wednesday in a news release.
The commission says it wants input from both interested and affected parties, though "the statutory directive places greatest significance on those who have an interest in bidding for development of a commercial gaming facility."
The deadline for submission of questions is Nov. 10, with the RFI submission date set for Dec. 10.
Oct. 20, 2021
NY Sports Betting Gains Ground In September; Still Annihilated By NJ
New York posted modest sports betting gains in September in a performance that still pales in comparison to New Jersey.
The four upstate casinos pulled in a combined $17.4 million in handle for the month, up 90% from August. Those bets yielded $3.2 million in revenue and about $318,000 in taxes to the state.
New Jersey meanwhile became the first state to eclipse the $1 billion mark for sports bets in a single month–more than 50 times as much activity as New York. It is estimated that around a quarter of that record number comes from bettors who reside in New York.
Oct. 19, 2021
Tax Rate For NY Online Sports Betting Could Hit 64%
Legalized online sports betting in New York is moving toward a conclusion. And that conclusion could come with an effective tax rate of 64% on sports betting revenue in the state, per new information from state regulators.
That would be by far the highest tax rate for sports betting anywhere in the US.
PlayNY confirmed that New York regulators have determined a final tax rate matrix that applicants must be able to meet.
Oct. 18, 2021
NJ's $1 Billion Sports Betting September Frustrates NY Sen. Addabbo
As New Jersey basked in the glow of its record-setting September for sports betting, all New York could do was watch with envy. In September, the NJ sports betting industry became the first in the US to handle more than $1 billion in a single month.
New York, meanwhile, is still working to get legal online sports betting up and running before Super Bowl LVI on Feb. 13, 2022.
"Frustrating is just one of the words I used when I saw that," Sen. Joe Addabbo told PlayNY about the report from Jersey. "And there's another F-word or two there."
Oct. 15, 2021
Gov. Hochul Indicates Support For Sports Wagering During Sept. Council Meeting
During the Business Council Annual Meeting on Sept. 24, Gov. Kathy Hochul said of NY sports betting: "I'm sick and tired of seeing all the people, when I'm in the city on a weekend, during over the George Washington bridge to cast their bets and all the money's going to New Jersey. With all due respect to New Jersey, I want that money in my state. Okay. That's how I look at it.
"Who are we competing with? Who's taking money that should be in the state of New York. And let's just be smart about these policies and create opportunities for more people. So, I'm looking forward to that."
Oct. 14, 2021
BetMGM CEO: 'Critically Important' To Be In NY Sports Betting Market
There is urgency to enter the New York market with legalized online sports betting potentially set for launch in early 2022. But a tax rate that could reach 50% or greater doesn't exactly thrill operators.
"Well, if you tell me what the tax rate is, I'll tell you the answer to that question," BetMGM CEO Adam Greenblatt joked during the Business of Sport US Summit on Thursday afternoon.
"It's critically important. There is overlap between New Jersey and New York, clearly. There is tax revenue leakage from New York into New Jersey. That's an issue for New York state. With such a significant population and market size opportunity in the state, it's critical."
Oct. 5, 2021
Tech Partnership Shows NY Restaurants Also Want In On Sports Betting
Restaurants also want in on the sports betting action coming to the Empire State.
The New York State Restaurants Association has entered into a Memorandum of Understanding with Elys Game Technology Corporation, the sides announced this week.
It's not exactly clear how restaurants and bars would fit into the structure that NY lawmakers put into action earlier this year, however.
Sept. 30, 2021
Sen. Addabbo Wants All NY Online Sportsbooks To Include Horseracing
When winning operators eventually take over legalized online sports betting in New York, NY State Senator Joe Addabbo wants betting on horse racing to be included.
"That's the next step for me," Addabbo told PlayNY last week. "I have to have someone have the ability to bet the Mets, Jets, Yankees, Rangers, Islanders, whatever they want, and then the fifth race at Saratoga.
Sept. 29, 2021
Sen. Addabbo Wants Downstate Casino Process Expedited
New York State Senator Joe Addabbo hopes to expedite the process of awarding licenses for downstate casinos.
Currently, there is a moratorium in place stating that New York cannot issue its three downstate casino licenses until 2023. But the coronavirus pandemic and a growing state deficit will cause the moratorium to be revisited by state legislators.
"We were so close. And because we were so close, I'm hoping my colleagues feel that enthusiasm about expediting," Addabbo told PlayNY.
Sept. 28, 2021
NYSGC Plans To Review Public Comment on Proposed Regulations In Late October
The NY State Gaming Commission plans to review public comment on its proposed regulations for governing mobile sports wagering in late October, a NYSGC spokesman told PlayNY.
"The Commission proposed regulations governing MSW in August," the spokesman said. "The proposed rules are out for public comment and will be ripe for Commission consideration at the very end of October."
The NYSGC recently elected to proceed with its application evaluation without oral presentations, which could've started Sept. 1. The NYSGC must make its selection of applicants considered for online sports betting licenses before Dec. 6. It would then award licenses at its next meeting (and possible amendments).
There are six bids featuring 12 platform providers and 14 operators. The industry favorites are the FanDuel, DraftKings, BetMGM and Ballys Super Bid, and the Caesars, Resorts World, BetRivers, PointsBet and WynnBET Super Bid.
The hope is that online sports betting in NY will be up and running by, if not before, Super Bowl LVI on Feb. 13, 2022. But legal experts recently expressed skepticism on that being feasible. The process also includes compliance regulations and technological testing to ensure consumer protections and safety, making it a tight fit around that optimistic time frame.
Sept. 24, 2021
Industry Experts: NY Online Sports Betting Launch By Super Bowl May Be Unrealistic
Some in the industry splashed cold water on the idea that legalized online sports betting will be up and running in NY by Super Bowl LVI on Feb. 13, 2022. There's simply too many steps that have to be taken care of in a short time period between now and then.
"I think it's incredibly ambitious," lawyer and lobbyist Bill Pascrell III told PlayNY from the Gaming Law, Compliance and Integrity Program Bootcamp at Seton Hall Law School in Newark, NJ.
"You're going to be having a decision on licensees, then you've got to test the technology, go through regulatory compliance, it's next to impossible. But perhaps they'll be able to do it."
Sept. 22, 2021
Addabbo Ready For Online Sports Betting Dream To Become Reality In NY
During an extensive conversation with PlayNY, New York State Senator Joe Addabbo, a major advocate for legalized online sports betting in NY, discussed a variety of topics.
They include his Mets' fandom; overcoming his father's death and following in his political footsteps; his frustrations over falling behind New Jersey and Pennsylvania; and his continued optimism that online sports betting will happen in NY by the February Super Bowl.
Sept. 20, 2021
NY Casinos Back Up Record July With Strong August
All four of New York's upstate commercial casinos posted their second-highest revenue month since being shut down to the coronavirus pandemic.
A look at their respective overall gross gaming revenue (GGR):
Resorts World Catskills: $21,318,868
Rivers Casino and Resort: $15,938,110
del Lago Resort and Casino: $14,815,594
Tioga Downs Casino: $8,051,111
Sept. 15, 2021
No Oral Presentations By Applicants To NYSGC
A spokesman for the NY State Gaming Commission confirmed Wednesday that no oral presentations by applicants will be necessary. "The Commission has determined to proceed with application evaluation without oral presentations. We are adhering to the timeline in the RFA."
The next step will be selecting applicants for licenses before Dec. 6. Amendments, if necessary, would need to be made a week later. Licenses would then be awarded at the next NYSGC meeting. The hope is that NY mobile sports betting is up and running by the Super Bowl on Feb. 13, 2022.
NY State Senator Joe Addabbo told PlayNY last week: "If those who submitted applications are satisfied that it's a professional, above-the-board process, and I'm going to assume that it is, and as long as the Gaming Commission deems it is under Gov. Hochul, we're good."
Sept. 8, 2021
Saratoga Enjoys Record-Breaking Summer
The Saratoga Race Course generated an all-time high $815.5 million handle during its 40-day summer meet.
The previous record was $705.3 million set in 2019. The average attendance was 26,162.
Sept. 2, 2021
Islanders Seeking One or Two Sports Betting Partners
The Islanders became the latest New York team to discuss their sports betting future this week. The team is moving into a brand-new venue, the $1.4 billion UBS Arena in Elmont, NY, this upcoming season.
Executive Tom Pistore told PlayNY the team plans to have one or two sports betting partners. The Islanders are also keeping an eye on Madison Square Garden corporation to see how MSG approaches the market. The team could eventually open up a combination food and beverage, sportsbook, entertainment lounge.
Sept. 1, 2021
Oral Presentations to NYSGC May Begin
Wednesday marked the first day that the NY State Gaming Commission could hear oral presentations from applicants hoping to secure a coveted NY mobile sports betting license.
Selections will be made no later than Dec. 6. Possible amendments would happen a week later, with licenses awarded at the next NYSGC meeting.
Aug. 24, 2021
MSG Still Evaluating Its Options, But Bullish on Sports Betting
Andy Lustgarten, president of the Madison Square Garden corporation (which owns the Knicks and Rangers), spoke about the company's sports betting future during an earnings call this week.
MSG didn't support a specific bid like the Yankees, Nets, Sabres and Bills. The Knicks and Rangers do have an existing partnership with DraftKings.
"We can blanket the market in a way no other company can and be a partner for whoever wins. May it be four or more, we're looking at different deal structures, exclusive deals, nonexclusive deals," Lustgarten said. "We're talking to everybody who's in the market, and we think this is a great opportunity for us and a great opportunity for New York State."
Aug. 23, 2021
NY Upstate Casinos Enjoy Record-Breaking July
In July, all four of New York's upstate casinos saw their revenues reach its 2021 high point.
Del Lago Resort and Casino, Rivers Casino and Resort, and Tioga Downs Casino all established new monthly records, according to the data:
Resorts World Catskills: $22,059,507
del Lago Resort and Casino: $16,078,168
Rivers Casino and Resort: $16,058,208
Tioga Downs Casino: $8,801,781
Aug. 17, 2021
Sen. Addabbo: Super Bowl Still Key Date For NY Mobile Sports Betting
NY state senator Joseph Addabbo still has the February 2022 Super Bowl in his sights for legalized NY mobile sports betting to be live.
"We have to be up and running by the Super Bowl," Addabbo said with urgency in his voice at an upstate gaming conference Tuesday. "That is the key date. Because that is the moneymaker."
There are still some hurdles to climb to get there, however.
Aug. 16, 2021
Jay-Z To Serve as Vice Chairman, Board Member For Fanatics Sportsbook
Jay-Z is back in an "Empire State of Mind."
The hip-hop mogul will serve as the vice chairman and sit on the board of directors of Fanatics Betting & Gaming.
Fanatics is hoping to secure a bid for legalized NY mobile sports betting. Fanatics already has a partnership with Jay-Z's sports agency, RocNation.
Aug. 13, 2021
NY State Gaming Commission Releases Redacted Bids
The NYSGC posted redacted versions of the six NY mobile sports betting bids. It was hundreds of pages. We broke down all the key elements of those respective bids here.
Aug. 12, 2021
NY Teams, Leagues Lobbying for NY Mobile Sports Betting
PlayNY combed through publicly available data, and found that NY pro sports teams have spent more than $200,000 this year in an effort to lobby for legalized NY mobile sports betting.
Aug. 9-10, 2021
Gov. Cuomo Resigns; Operators, Sportsbooks Submit Final Bids
NY Gov. Andrew Cuomo resigned Tuesday amid serious allegations of sexual misconduct. Kathy Hochul will become the state's first female governor.
Legal Sports Report broke down what Cuomo's resignation could mean for sports betting. Its conclusion: likely not much.
The move comes a day after final bids for legalized NY mobile sports betting operators and books were submitted to the New York State Gaming Commission,
The Yankees, Bills and Sabres (DraftKings, FanDuel, BetMGM, others), and Nets (Fanatics, Penn National) are among the NY teams that supported bids for mobile sports betting.
Aug. 2, 2021
Final Round Of Questions And Answers Released By NYSGC
The countdown to the end of the application period has reached seven days. And the New York State Gaming Commission celebrated by posting its final round of questions and answers for online sports betting.
Once again, the NYSGC attempted to provide more clarity on how it would score submissions regarding tax rates. The answers included this rubric:
| Tax rate | Value |
| --- | --- |
| 12.5 - 30% | Up to 3 points |
| 30 - 40% | Up to 10 points |
| 40 - 50% | Up to 15 points |
| 50% | 20 points |
*For each full percentage over 50%, applicants earn an additional point.
Rather than saying a bid of 50% would be worth "up to" 20 points, the NYSGC emphasized that such a rate would be scored at exactly 20 points. What's the difference between that rate and one of 49.99%? That 0.01% difference carries five points. Dropping to 49.99% would earn 15 points in the eyes of the NYSGC.
In addition, if a platform provider does not meet the requirements of a license holder, an affiliated sportsbook cannot switch providers. As Legal Sports Report pointed out, this distinction contradicts information from the previous question-and-answer round:
"… The Commission will consider changes that will in their subjective determination generate as much or more revenue for the State."
Applications are due at 4 p.m. ET on Aug. 9. After that, the NYSGC will review submissions and hope to select a minimum of two platform providers before Dec. 6.
July 28, 2021
NYSGC To Provide Clarification On Selection Process
The deadline has passed for interested parties to submit questions to the New York State Gaming Commission regarding online sports betting in New York. Now, the commission will pore over those queries before posting applicable answers Aug. 2.
As it did prior to releasing its initial round of questions-and-answers last week, the NYSGC looks to help provide more clarity regarding its request for applications (RFA) that it issued earlier this month.
Those answers provided a more detailed look into the selection process, particularly how the NYSGC will score submitted bids.
When the commission posts its second round of answers, interested parties will have only a week left to submit their applications to become a legal sports betting platform provider in New York. Once the application period closes Aug. 9, the NYSGC will have up to 150 days to make its selections.
The hope is for regulated online sports betting to go live in time for Super Bowl LVI, which is scheduled for Feb. 13, 2022.
July 23, 2021
NYSGC Releases Q&A Document For Perspective Applicants
Two weeks after issuing the request for applications (RFA) for online sports betting in the Empire State, the New York State Gaming Commission released a set of questions and answers regarding the application and approval process.
Among the key points addressed, the NYSGC reaffirmed its scoring system, detailing that it will award points to applicants that could add up to a maximum score of 75 points. Applicants must earn a minimum of 60 points to remain under NYSGC consideration.
Scoring will depend on a number of factors, as detailed within the RFA. For example, higher tax rates including in submissions will receive more points. And the commission will use a sliding scale to award those points. A tax rate of 49%, then, would earn more than a rate of 42%. This clarification came about after the RFA noted that rates between 40% and 50% will receive up to 15 points.
The NYSGC also cleared up how bonus points will be awarded for tribal revenue sharing agreements. The commission will give up to five points to any applicant with such a deal in place. The exact number of points, though, depends on the overall value of the agreement.
Indeed, the NYSGC covered many items within its latest question-and-answer release, as reported by our own Martin Harris.
July 19, 2021
NY Casinos Take Revenue Hit In June, But Sportsbooks Thriving
In June, commercial casinos in New York saw a drop in revenue, its nearly $50.49 million reflecting a 6.2% dip from the previous month.
However, betting at retail sportsbooks in the state spiked. In fact, with more than $1.85 million in gross gaming revenue, June was the second straight month with an increased profit.
BetRivers and DraftKings sportsbooks led the way with more than $626,000 each. The two of them combined for 75% of sports betting revenue.
After revenue jumped 17% from April to May, another increase of 14% occurred in June.
July 13, 2021
Legal Online Sports Betting In NY May Not Be Ready By Super Bowl LVI
It was never really possible for legal online sports betting to be up and running in time for the start of the 2021 NFL season. Lawmakers knew at least this much.
Considering how much wagering occurs on the league's championship, though, it seemed only a bit of a stretch for the mobile betting market to launch in time for Super Bowl LVI in February 2022, depending on how long the selection process took for the New York State Gaming Commission.
Yet with the NYSGC's delay in releasing a request for applications, launching online betting in New York by early 2022 might be a stretch.
As our own Martin Harris detailed, because of how the law is written, meeting that goal might prove difficult.
After all, the law requires the application process to last 30 days, creating an Aug. 9 deadline. Following that, the New York State Gaming Commission has up to 150 days to select its sports betting platform providers. Certainly, the NYSGC could make its choice within that 150-day window. But if the commission uses the entirety of that time, its selection wouldn't come until Jan. 6, 2022. Considering the Super Bowl is scheduled for Feb. 13, it would seem difficult, if not improbable, for the state to choose its partners, test everything and get apps launched in a month.
Of course, crazier things have been done.
July 9, 2021
NYSGC Finally Issues Request For Applications
It was a week late doing so, but the New York State Gaming Commission issued a request for applications to help launch the Empire State's mobile sports betting industry.
The NYSGC had long known the July 1 deadline to send out the RFA. That date, though, came and went without the commission doing so.
Fortunately, just eight days passed before the NYSGC came through. Among the items detailed in the 130-page document is how the NYSGC will select its partners.
The commission will use a point system to determine which platform provider will serve New York sports betting. Submitted bids accumulate points based on a variety of factors, such as how much revenue a platform provider will share with the state and expertise in offering regulated wagering, among other things.
In addition, the NYSGC will award five points to a provider that has a revenue-sharing agreement in place with one of the state's tribes.
The higher the score a submitted bid receives, the more likely it will be selected to offer online sports betting in New York.
Interested entities now have 30 days to submit their applications to the commission, which will then have up to 150 days to review bids and select the state's mobile betting partners.
July 7, 2021
NY Congressman John Katko Backs HR4038
A congressman from New York is part of a pair of lawmakers that has sponsored a bill to "remove Federal barriers" as they relate to mobile wagers and tribes.
Rep. John Katko and California Rep. Lou Correa have backed HR 4308, which aims to allow tribes that have gaming agreements with their respective states to accept mobile bets.
The Indian Gaming Regulatory Act provides a federal legislative basis to allow tribes to reach gaming compact agreements with states within three classifications. Such gaming, if not specifically prohibited by federal law, can only occur on tribal lands.
As such, when it comes to mobile gaming, no one outside those lands can take advantage of tribal offerings.
By removing federal barriers, tribes would be offered the opportunity to generate additional revenue. The proposed bill would establish that the location of online wagers occurs at the location of servers, unless states and tribes agree otherwise, rather than where customers are located.
A similar effort was made in 2019 by Rep. Anthony Brindisi, also from New York. Aimed more directly at online sports betting, the proposal never made it to a committee hearing before the congressional session ended.
New York intends to roll out mobile sports betting by early 2022, courtesy of a budget bill signed by Gov. Andrew Cuomo. While the New York State Gaming Commission has emphasized that any sports betting platform provider involving Empire State tribes will receive extra consideration, tribal casino operators in the state have argued that the coming New York mobile betting industry violates exclusivity zones laid out in their compacts with the state.
July 2, 2021
No RFA From NYSGC As July 4 Nears
As we head into Independence Day weekend, we do so without a request for applications (RFA) issued by the New York State Gaming Commission.
State law required the body to send out the RFA by July 1, nearly two and a half months after Gov. Andrew Cuomo signed the budget bill.
On the morning of July 1, a spokesperson with the commission informed Legal Sports Report: "The Commission will meet the statutory requirement for the MSW RFA."
Instead, the first two days of July will pass without the NYSGC issuing its request.
Stakeholders were hopeful that online sports betting would launch in New York by late 2021. Certainly, the goal was to get the industry off the ground in time for the Super Bowl.
But consider the timeline and how difficult it would be to open mobile betting in the Empire State: 30 days for bidding, 150 days for the NYSGC to review submissions and select its partners. Assuming the commission uses the entire 150 days, that would mean the earliest time for online wagering to go live in late December.
Of course, the NYSGC could choose its platform providers earlier. But, this delay does not exactly instill confidence for a 2021 launch of mobile betting in New York.
June 29, 2021
Request For Proposals From NYSGC Expected Shortly
In two days, the New York State Gaming Commission (NYSGC) is expected to issue a request for proposals to parties interested in becoming official sports betting partners in the Empire State.
While some mysteries remain regarding which operators will submit bids to be considered as a New York sports betting provider, we do know some definitive details. For example, we know that a minimum of two platform providers and four sports betting skins will roll out in the Empire State. Selected platform providers will share at least 50% of revenue with the state. Operators will also pay a minimum tax rate of 12%.
What's more, platform providers must pay a $25 million licensing fee.
Sen. Joe Addabbo Jr. told Legal Sports Report that there is ample "enthusiasm by those in the industry" and that "New York will have its fair share of providers and operators to choose from."
The goal, he noted, is to have NY betting apps launch at some point during the NFL season. The budget bill signed by Gov. Andrew Cuomo notes that the NYSGC must select winning bidders by the end of December, which will follow a 30-day application period starting July 1 and a 150-day period for the commission to pore over bid submissions.
While the Cuomo eventually agreed to a minimum of four sports betting skins, Addabbo said, "I firmly believe we'll have more than four."
June 24, 2021
First Sports Illustrated Sportsbook To Launch At The End of 2021 As Part Of 20-Year Pact
A 20-year online gambling joint venture has been formed between 888 and Authentic Brands Group, owner of New York-based Sports Illustrated. The result will be the eventual launch of the first SI Sportsbook toward the end of 2021.
The new venture will begin with a rollout of the sportsbook in Colorado, but there are market access points to open up shop in another three states down the road: Indiana, Iowa and nearby New Jersey.
As part of the deal, Sports Illustrated gains a 4.99% equity stake, while 888 will assume exclusive license for the use of the SI brand and trademarks for online betting. The company will also receive exclusive advertising and editorial integration rights on SI's digital assets.
The SI Sportsbook will leverage 888's in-house sportsbook platform, which has yet to go live in the US, with the potential to expand into Canada.
This partnership is another example of a media company getting into the sports betting game. The likes of Fox Bet, theScore and Barstool have launched legal sportsbooks in various jurisdictions.
June 22, 2021
Trainer Bob Baffert Files Lawsuit Following NYRA's Suspension
Bob Baffert continues to fight after his Kentucky Derby-winning horse was not allowed to race in the Belmont Stakes earlier this month. This time, in the form of a lawsuit.
Prior to the June 5 race, the New York Racing Association (NYRA) suspended the 68-year-old trainer after his horse, Medina Spirit, tested positive for a banned truck after the Derby. While the horse was ultimately cleared to run in the Preakness Stakes, the NYRA decided two days after the second leg of the Triple Crown to suspend Baffert.
The NYRA's decision prohibits Baffert from entering horses into any horse racing events at Belmont Park, Saratoga Race Course and Aqueduct Racetrack.
Baffert, though, has continued to deny any wrongdoing regarding Medina Spirit's failed test, which could have stemmed from an anti-fungal ointment. But the lawsuit does not focus on denial, rather on that the NYRA did not provider Baffert a right to defend himself before the racing association suspended him.
The trainer's team argues that the suspension came without any formal allegations from the New York Gaming Commission and without any notice whatsoever.
June 18, 2021
Gov. Andrew Cuomo: NY Casinos Can Operate At Full Capacity
Gov. Andrew Cuomo lifted all state-mandated coronavirus restrictions, noting that 70% of adults in the Empire State have received at least one dose of the COVID-19 vaccine.
Cuomo's announcement means that New York casinos can operate at full capacity.
That said, properties can still choose to implement methods of prevention, such as capacity restrictions, social distancing rules and health screenings.
For Rivers Casino & Resort Schenectady, it has returned to 100% capacity and removed all plexiglass safety barriers from slot machines and table games as well as elsewhere on the property.
Similarly, del Lago Resort & Casino announced it will roll back restrictions on food, beverage and gaming. The casino also took down plexiglass barriers and removed social distancing measures throughout the property. Del Lago will keep its mask policy in place, requiring non-vaccinated guests and employees to still wear masks on the premises.
June 15, 2021
New Amenities Coming To Turning Stone
Some major upgrades are on their way to Turning Stone Resort Casino.
The Verona property, operated by the Oneida Indian Nation, expects to improve The Showroom, add a new upscale bar in The Lodge, reopen a new-look buffet, and enhance various other facilities.
All of this comes as Turning Stone nears its 28th anniversary and comes out of a pandemic that not only forced a brief closure of the casino but also took a toll on revenue. As Ray Halbritter, CEO of Oneida Nation Enterprises, put it: "These renovations are also a sign of a 'return to normal' for so many."
"We spent the last year preparing for the return of concerts, weddings, events, and tourism in general by transforming parts of the resort that will greatly enhance our guest experience and maintain our status as New York's premier destination casino resort."
June 10, 2021
Jessica Welman Breaks Down NY Sports Betting Landscape
While it may seem like nothing has been happening on the New York sports betting front, plenty has been going on behind the scenes.
Our own Jessica Welman breaks down the process faced by the New York State Gaming Commission, including the July 1 deadline to issue a request for proposals followed by 30 days for interested parties to submit bids and another 150 days for the commission to select the state's platform providers.
In addition, there's some insight into who you might expect to see bids from.
June 4, 2021
BetMGM Adds Legendary Brand Ambassador: No. 99
A familiar face has aligned with sports betting and digital gaming operator BetMGM.
Wayne Gretzky, who spent the final three seasons of his illustrious career with the New York Rangers, signed a multi-year agreement to become a brand ambassador for BetMGM.
The Great One will help bolster the hockey and North American marketing efforts of BetMGM.
Gretzky helped lead the Rangers to the Eastern Conference Finals in 1997, and it was with the franchise that he set the career record for regular-season and playoff goals.
June 1, 2021
NY Racing Association, BetMGM Join Forces In Historic Partnership
The New York Racing Association has become the latest first horse racing partner of an online gaming company. The deal with BetMGM allows the operator to leverage the NYRA Bets wagering platform for its own BetMGM horse racing app, which will be available for iOS and Android users.
As a result, BetMGM customers will gain access to horse races run at more than 200 tracks worldwide. Similar deals have been struck in the past, with TVG partnering with FanDuel and Churchill Downs rebranding its BetAmerica platform as TwinSpires.
NYRA Bets, which has seen substantially increased traffic since launching in 2016, will now have one of the top iGaming operators in its corner. This deal comes a few weeks after the NYRA announced an "official mobile lottery partner" in Jackpocket.
The third-party lottery app, which allows users to purchase select lottery games via mobile devices, became the title sponsor of the $400,000 GI Jackpocket Jaipur at the Belmont Stakes. In addition, Jackpocket gained preferred partner status with Belmont Park and Saratoga Race Course.
May 21, 2021
Pro Basketball Leagues, Sports Betting Companies Do Business
The NBA and WNBA are digging in their heels more into the sports betting waters, as each New York-based league announced new agreements this week.
Following the debut of its NBA BetStream, which featured alternate broadcast feeds focusing more on sports betting, the NBA came forward with a plan to launch a weekly 30-minute NBABet TV show presented by BetMGM. The show would center solely around the legal NBA betting market and will run through the first two rounds of the 2021 playoffs.
A day later, the WNBA announced it made PointsBet an "Authorized Gaming Operator" of the league. PointsBet adds the WNBA to its portfolio of partnerships that includes the NBA. The WNBA also becomes PointsBet's first women's professional sports league partner.
As part of the deal, PointsBet will integrate the WNBA into its betting platforms and will receiver sponsorship and brand visibility with the league.
May 18, 2021
NY Sports Betting Revenue Figures For April Released
For the first time, New York has sports betting revenue numbers for the month of April.
The state's four commercial casinos generated $1.3 million in gross gaming revenue last month, the first April the Empire State's regulated wagering industry has seen since launching. (The first retail bets were placed in July 2019, and casinos were closed in April 2020 because of the pandemic.) That total actually represents a 28.3% decrease from March 2021.
Leading the way was BetRivers Sportsbook at Rivers Casino, which reported $644,865. DraftKings Sportsbook at del Lago checked in at $620,431. The other two retail sportsbooks had their worst months in over a year. Tioga Downs reported just over $65,000 for its worst monthly GGR since March 2020; Resorts World Catskills actually lost $7,747 for its lowest point since February 2020.
May 13, 2021
Update On NY Mobile Betting: There Is No Update … For Now
Since the NYSGC released a sheet of FAQs providing more detail on the construct of mobile betting in New York, things have been quiet in the Empire State. Surely things will pick up soon. After all, we are less than two months away from the commission's deadline to open up the application process for sports betting platform providers.
April 24, 2021
NYSGC Only Raises More Questions Following FAQ Release
The state of New York attempted to provide some clarity to the new online betting laws. The NYSGC issued a set of FAQs related to the new measure. Unfortunately, it raises several more questions than it settles.
Most notably, the rules still seem to leave the door open for a tribal casino challenge since there are still questions about tribal exclusivity and a potential violation of the state's gaming compact.
April 19, 2021
Gov. Andrew Cuomo Signs Bill Legalizing Online Betting Apps in NY
The law legalizing online betting apps in New York is now official. Gov. Andrew Cuomo signed the bill into law as part of the larger budget bill. While this does legalize regulated betting apps in the state, it is important to be clear that this does not change the status of underground bookmakers or offshore betting sites.
Your local bookie is still very much breaking the law. Additionally, offshore sites that may claim it is okay for Americans to bet on them like Bovada and MyBookie are still breaking the law by accepting US customers.
We likely won't see regulated mobile betting apps launch in New York until early 2022.
April 13, 2021
2:00 p.m.
Sen. Joseph Addabbo Jr. Hopes For NY Online Sports Betting Launch By Super Bowl LVI
Sen. Joseph Addabbo Jr. told Elite Sports NY that the "benchmark date" for online sports betting in New York to launch is Super Bowl LVI, scheduled for Feb. 13, 2022.
The New York State Gaming Commission expects to issue a request for proposals by July 1. Applicants will have 30 days to respond, and then the commission will have up to 150 days to select two platform providers. Theoretically, that pits the actual selection around the end of 2021.
The quicker the commission can get the RFP out there, the quicker applications can come in, and the quicker partners can be selected. No doubt New York would like online sports betting to be up and running during, if not in time for, the football season.
But as Addabbo said, New York needs to get mobile betting off the ground by February: "You don't want to miss out on another Super Bowl."
April 7, 2021
Tioga Downs Casino Owner Blasts NY's Mobile Sports Betting Plan
5:00 p.m.
The Cuomo budget features a lot of numbers and projections related to sports betting. One big number is a projected $500 million in revenue for the state. Eric Ramsey explains why this model will bring in more money for the state than an open market, but half a billion dollars is just not attainable.
Jeff Gural, owner of Tioga Downs, didn't mince words when critiquing the plan to the Wall Street Journal (paywall).
3:00 p.m.
If you have been following Dave Portnoy or the metoeric rise of $PENN stock, this New York news probably has you thinking positively. While there is room for Barstool Sportsbook and Penn National Gaming to get into the state, there are also plenty of scenarios they don't. Our own Dustin Gouker broke down the pros and cons of Barstool New York.
1:00 p.m.
In his address to the state, Cuomo touted his mobile sports betting plan, noting:
"The law allows the state to directly operate mobile sports betting. So the $500 million will go to the state rather than a lot of middlemen who operate mobile sports betting, which is what many other states have done."
Cuomo also reaffirmed his opposition of downstate casino expansion. His rationale is he wants the NY Gaming Commission to handle licensing to avoid the process getting too political.
Here is his video briefing:
12:00 p.m.
Once the budget was finalized, the Oneida Nation once again released a statement about its frustration with the plan:
April 6, 2021
Terms Of NY Online Sports Betting Budget Legislation Released
11:30 p.m.
The language for the legalization of online sports betting dropped this evening as part of budget legislation.
New key points:
Fees to be one of two platform providers cost $25 million for a 10-year period.
Casinos will be paid $5 million annually if they host servers for a sports betting licensee.
The state will issue a request for proposals by July 1, and applicants will have 30 days to respond. The state will have 150 days to choose the sports betting platforms.
4 p.m.
The NY legislature and Cuomo still don't have a finalized budget. However, Pretlow and others told the media there is a plan that will be in the final bill for sports betting. The details remained hazy, perhaps even more confusing than ever.
There will be two sportsbook platforms and those platforms must have a minimum of four skins.
The state expects to keep at least 50% of revenues and will push for 55%.
Royalty fee to the leagues removed.
Money dedicated to education with $5 million to youth sports and $6 million to responsible gambling measures.
April 5, 2021
Cuomo: NY Sports Betting Plan Won't Include Casinos
Cuomo announced there is a plan in place for sports betting with New York Lottery as the regulator-operator. He explicitly stated his intention to leave out casinos:
We will contract directly with the mobile sports vendor, FanDuel, DraftKings … we'll contract with them and we'll make the money. We don't need the casinos as a middleman. That's the first point of contention: should you let the casinos make the money or should the state make the money directly? My position is the state should make the money directly and then let the state decide what to do with it."
That point could very soon be the focus of a court case. The state constitution states the casinos have to be involved with gambling expansion. For example, with online sports betting, the servers for a betting app would need to be on casino property.
Cuomo also suggested tribal casino participation could be limited to just bets made on tribal grounds. That immediately drew a response from the Oneida Nation:
Response this evening from Oneida Indian Nation after Cuomo's comments re: mobile sports betting. pic.twitter.com/biITXm1JqH

— Tom Precious (@TomPreciousALB) April 5, 2021
March 31, 2021
Negotiations came down to the wire to make the April 1 budget. For the first time in a few years, the budget was not settled on time. Part of the delay stemmed from hashing out details on sports betting, which kept veering farther away from casinos and closer to Cuomo's lottery-based plan.
Early details included a lottery-run model with one or two operators. Cuomo kept pointing to New Hampshire's single-operator model as an effective comparison. It is worth noting the population of New Hampshire is 1.36 million people. The state sportsbook collected around $5 million in revenue in its first year of operation.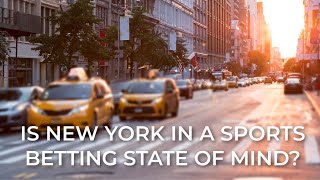 March 29, 2021
After more than a month of public silence and behind-the-scenes negotiations, whispers came out of Albany about a compromise. According to Addabbo, they presented Cuomo with a hybrid option, but he insisted on a model that cut casinos out of the equation, even if there were constitutional questions about if that is even possible.
March 16, 2021
Play News: Experts Discuss NY Sports Betting Industry
PlayNY publishes a white paper on the economic possibilities of online sports betting in New York. In tandem with the release, we also hosted a webinar talking about the NY sports betting industry.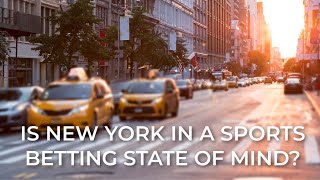 Jan. 22, 2021
NYGS Releases Study On Gambling Expansion
The New York Gaming Commission (NYGS) released a study on gambling expansion the department requested from consulting firm Spectrum Gaming. Many in gaming thought Cuomo's plan perhaps stemmed from results in this study. Turns out not. The study advised a casino model and also projected the revenue for possible upstate casinos.
Jan. 20, 2021
Cuomo Posts Executive Budget
Cuomo released his executive budget. It included no sports betting details.
Jan. 19, 2021
Cuomo delivered his public budget address. He again references his sports betting plan, but still will not release details. The hope is details will come with the official executive budget.
Jan. 8, 2021
Just a day later, Addabbo and Assemblyman Gary Pretlow filed their own sports betting legislation in both the Senate and the Assembly.
Jan.7, 2021
A day after Cuomo went on the offensive, sports betting sponsor Sen. Joseph Addabbo Jr. quickly reacted to the announcement. He told PlayNY that, without online sports betting, the struggling downstate commercial casinos could risk financial ruin. The four downstate casinos struggled almost immediately after launching. They had even asked the state for a bailout in 2018.
Jan. 6, 2021
The new year got off on a positive note when Gov. Cuomo said he supported online sports betting expansion. Lawmakers have been pushing the law for years, but previously lacked Cuomo's support. However, as part of his revelation that it would be in his budget, he announced an entirely new plan for state sports betting. Instead of a plan similar to most other states where casinos serve as the licensees and the state gaming commission oversees regulation, Cuomo proposed one run by the lottery with a monopoly model.