The remarkable run of Powerball and Mega Millions continues Wednesday night with a drawing that could award a $730 million payday. Yesterday, the Mega Millions drawing came and went without a winner. As a result, that drawing is going to likely feature a billion-dollar jackpot.
Meanwhile, Powerball has climbed to a $730 million jackpot. If it hits, it will be the fourth-largest jackpot in the draw game's history.
Winnings numbers for Jan. 20 Powerball drawing
Here are the winning numbers from Wednesday's drawing:
Numbers: 43, 58, 60, 68, 69
Powerball: 22
Power Play: 3X
What to do if you win the big lotto jackpot
We all dream about the lavish homes or cars we might buy if we win the lottery someday. However, have you ever really thought practically about what to do if you actually hit the jackpot?
This video from PlayUSA offers great advice about what you need to consider before cashing that ticket in: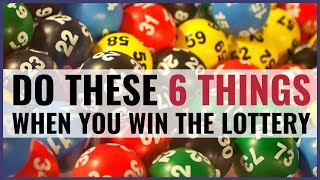 The big myth is that it is a good idea to immediately sign the back of your ticket. Yes, if you misplace your ticket and someone else finds it if they sign the back, you don't really have much recourse.
Rather than sign the back of that ticket, maybe look into a safe deposit box to hold it while you weigh your options? Here's why: In many states, you can protect your anonymity by forming a trust and then signing on behalf of the trust.
If you bought tickets as a group, this is an option you definitely want to consider. That way one person does not potentially have the ability to claim the whole prize. It also makes a complicated tax situation much, much simpler.
Another thing you probably want to do is take the lump-sum payment. In this instance, it would be a $546 million one-time payment instead of the spread-out annuities amounting to $730 million.