For the 11th straight year, the Super Bowl will be played without a representative from the state of New York. But that doesn't mean you can't still have something to root for. Along with ample NY sports betting opportunities, something a little more personable exists, courtesy of PlayNY.
As we all plan ahead for our Super Bowl watch parties on Sunday, in preparation for Super Bowl 57 between the Kansas City Chiefs and Philadelphia Eagles, a free-to-play, all-encompassing bingo card exists that incorporates the telecast of the NFL championship as well as the goings-on at your get-together.
From storylines playing out on TV to who will fall asleep first before the game ends, this is your official PlayNY 2023 Super Bowl bingo card.
Camera shot of BetMGM Sportsbook at State Farm Stadium
For the first time in NFL history, the Super Bowl will take place in a state with legal sports betting. And along with multiple betting apps at their fingertips, game-goers will not have to walk far to access a retail sportsbook.
Mere steps from State Farm Stadium sits BetMGM Sportsbook, the first brick-and-mortar facility (technically) at a football stadium. The two-story sportsbook spans 17,000 square feet, is open year-round, features plenty of food and beverage and, naturally, has ample game-watching amenities. That includes a massive 265-square-foot video wall to complement 25 self-service kiosks.
It would be difficult for a Fox camera to miss the retail sportsbook. And considering it will no doubt push the 500-person capacity with crowds herding in the surrounding areas outside (plus MGM is an official NFL partner), this should be one of the earlier squares to dab.
Sports betting ads with all-time NFL greats (and Eli)
With the proliferation of legal sports betting, especially in New York, advertisements for the industry abound. We can no doubt expect to see plenty of marketing during the Super Bowl. Spot a spot featuring Jerry Rice (DraftKings), Barry Sanders (BetMGM) or Eli Manning (Caesars), dab the square.
"This game is so stupid" in any context
Any individual can be the dealer of this great thought. The Giants fan annoyed that Philly is in the big game. The viewer laughing off a full-extension, one-handed, blackflip touchdown catch. The bettor lamenting a late, meaningless touchdown that crashed his Super Bowl betting parlay. The significant other from the other room making fun of the galoots crowding around the TV watching the game diligently like it was their own child taking their first steps. "This game is so stupid."
Ad airs for beverage currently in hand
Call it kismet. Call it a coincidence. Call it what you want but call it out loud for all to hear. As Hans Landa put it: "That's a bingo."
Someone falls asleep/passes out before Super Bowl ends
Super Bowl Sunday, one of the biggest and longest games of the year. Morning cleaning, cooking, setup, perhaps some pregame imbibing. By halftime of the championship, which will push 8 p.m. ET, expect some of your party colleagues to potentially be fading. You could count kids, but what fun is that? You can't morally draw on the faces of them after they pass out, right?
Any mention of first matchup between starting Black QBs
In 1988, seven years before the birth of Patrick Mahomes and a full decade before Jalen Hurts entered the world, Doug Williams led the then-Washington Redskins to a Super Bowl victory, a game in which he became the first Black quarterback to start in the NFL championship. Now, both Mahomes of the Chiefs and Hurts of the Eagles have the same honor, marking the first time in league history that two Black QBs will start in the same Super Bowl.
Such a landmark event will certainly and rightfully take center stage, with both quarterbacks playing MVP-caliber football this season and leading their respective teams to the threshold of championship immortality.
Tickets already secured for Super Bowl 58
The Buffalo Bills went the entire 2022 NFL season as one of the favorites to win the 2023 Super Bowl, and they sit in the same position heading into next year. The New York Giants come off a drought-snapping playoff appearance (and victory) and appear poised to right the ship. The New York Jets … well, they started the year strong but still have no real answer at quarterback.
Still, with the 2024 Super Bowl in Las Vegas, now's the time to get the best prices on airfare. And it's this time of year that every fan has all the confidence in the world that next year is their year.
Any occurrence of a referee "blowing it"
It's bound to happen. Could be a no-call on late-game pass interference. Could be a first-quarter "roughing the passer." Any moment when a TV announcer or anyone in the room utters a variation of "the game changed because of that one call."
Duplicate appetizers sitting on the same table
You want to talk about the perfect parlay? Plate of wings neighboring a plate of wings holding hands with a plate of wings. Two side-by-side platters of veggies takes away a bingo square.
Over 5 times someone asks who has what numbers for Super Bowl squares
A staple of the big game is Super Bowl Squares, in which party-goers are assigned a box within a spreadsheet assigned to two digits: one applying to the Chiefs' score at the end of each quarter and one to the Eagles. Money goes to the box that holds the correct digit. (So a 17-10 Eagles lead after the 3rd would pocket cash for the box owner of Philly 7, Chiefs 0.) With potentially enough money to change an individual's mood instantly, expect some ample questions regarding who owns what squares.
Debate: Are the Kansas City Chiefs a dynasty?
At some point, it will happen. Kansas City is in the Super Bowl for the third time in four years, winning once. They've advanced to the AFC Championship game in each of the past five seasons. Patrick Mahomes has one MVP in his pocket (perhaps as a second coming soon), and Travis Kelce stands as one of the all-time great tight ends.
Of course a discussion will begin during the broadcast: Is this era of Chiefs among the greatest ever assembled?
Remembering when the Giants spoiled Patriot perfection 15 years ago
A toast! Exactly 15 years and nine days prior to the 2023 Super Bowl, the New York Giants slayed Goliath. Eli Manning led Big Blue to the 17-14 upset of the 16-0 New England Patriots to deny the Pats' bid at becoming the first undefeated team since the '72 Dolphins. Oh, and become the first Wild Card team to win the Super Bowl.
Soup or Bowl pun = rimshot + groan
Yes, dad jokes are accepted, encouraged and necessary to earn Super Bowl bingo. Just a bonus that it gained fame on Boy Meets World.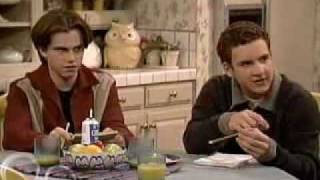 Armchair "Romo" shows up for analysis
Tony Romo made a quick impression as a CBS analyst with his perceived ability to predict which play any given team will run next. With Fox handling broadcast duties, however, we will not have such Romo-bilities. But trust us, at least one guest at your party will handle those reins. "They should do this," for example, or even "that was the other play I would have called."
"I wish we had Joe Buck" comment
Not many folks fully appreciate the football (or any sport)-calling chops of the great Joe Buck (see below). But at some point, perhaps around the second or third quarter, somebody is bound to lament the absence of the hall-of-fame broadcaster.
Shade thrown at Philadelphia Eagles
There is no love lost between the NFC East rival New York Giants and Philadelphia Eagles. You really think the Giants — unlike that dang Empire State Building (see below) — want to see Philly win another championship? Probably as much as they'd like to have Ben Simmons back.
"Thank God we don't have to listen to Joe Buck" comment
Few broadcasters garner as much criticism as the aforementioned Joe Buck. His perceived bias and editoriliazing constantly draws the ire of viewers. If he didn't bolt to ESPN prior to this season, he certainly would have been in line to call the 2023 Super Bowl. Fortunately for those Buck-haters, he ain't anymore.
Air time for famous fans for Eagles, Chiefs
Actors Bradley Cooper and Rob McElhenney, comedian Kevin Hart and MLB star Mike Trout for the Eagles. Actors Rob Riggle, Paul Rudd, Jason Sudeikis and Brad Pitt for the Chiefs. Put them at midfield for a free-for-all royal rumble.
Guest yells at TV after defense allows backdoor cover
It should come as no surprise that, every year, the Super Bowl expects to draw the most bets for any single day/event. Odds are someone may have a few bucks on the championship, perhaps even on, say, the Chiefs to cover the +1.5-point spread. But if Philadelphia is holding on to a one-point lead (a Kansas City cover) with five seconds left and for some reason Jalen Hurts sprints around the corner for a touchdown, expect fireworks within your living room.
Complains about halftime show before it ends
Let's face it, no halftime show ever lives up to the halftime show you once saw performed by that one individual or band. And this halftime show is so much longer than that one you remember seeing back when you weren't actually paying attention but you saw on Twitter some people were complaining so you're passing on those gripes to your buddies and co-opting it as your own.
Planning what to do if the Empire State Building lights up Eagles colors
Two weeks ago, the Empire State Building did the unthinkable: It lit up in the green and white of the Philadelphia Eagles, commemorating the team's NFC Championship win. Despite backlash and uproar from New Yorkers — and even NYC Mayor Eric Adams — Empire State management intends to do it again if the Eagles win the Super Bowl. If Philly appears on the verge of a title, will talks arise at your party regarding how to react?
Early departure by anti-Eagles fan if Philly starts to win
As if the Empire State Building lighting up in Eagles colors wasn't enough, now you, a die-hard Giants fan, have you see Philly succeed in the Super Bowl? Cue the Irish exit.
Time devoted to Tom Brady retirement
What would Super Bowl week be without radio row, the zoo that is media day and Tom Brady announcing his retirement? For the second straight year (and on the same date), the GOAT called it quits. This time "for good," as he said in his video announcement. Brett Favre said the same thing.
Begging the football gods for one more TD to cash a bet
Patrick Mahomes sits on two passing touchdowns with the Chiefs leading by 14 with under three minutes to go. Kansas City faces a third down with three yards to go at the Philadelphia 12-yard line. You backed Mahomes to go over 2.5 TD passes. Tell me you're not pleading to the universe for coach Andy Reid to have Mahomes sling one to the end zone instead of taking the gimme field goal.
Party divides into commercial/game viewing groups
Not everyone attends a Super Bowl party with the same intentions. But there should be no judgements. Everyone is there for the same reason: Blindly staring at a TV screen and overindulging in food and beverage.