Buffalo Sabres Odds
The Buffalo Sabres have never won a Stanley Cup. In fact, it's been more than 20 years since the Sabres got as far as the Stanley Cup Final.
Still, with online sportsbooks now changing the betting landscape in New York, betting on or against the Sabres has never been easier.
Below, find the best Sabres betting odds you can find from game to game. As well as the Sabres Stanley Cup odds. Find out below in our complete look at online Sabres betting in New York.
Latest Sabres Odds: Puck Line, Stanley Cup, Props
Check the feed below for odds on the next Sabres game as well as Stanley Cup futures and bets on individual players. If you see odds you like, click on the number to go to the sportsbook that posted it, claim the welcome bonus, and place a bet.
Next Up: Columbus Blue Jackets
Game Day: Friday, April 14, 2023
Game Time: 4:30 PM ET
TV Channel: BSOH
Location: Columbus, Ohio
Arena: Nationwide Arena
Betting Insights For The Blue Jackets Game
The Sabres are third in the league in scoring (3.6 goals per game), and the Blue Jackets are 31st on defense (4.0 against).
Buffalo has a -6 goal differential on the season, 19th in the NHL.
The Sabres average 7.2 penalty minutes per game, 31st in the league.
Buffalo's Last 10 Games
| Overall Record | ATS Record | O/U/P | AVG Total | AVG Goals Scored | AVG Goals Allowed |
| --- | --- | --- | --- | --- | --- |
| 7-2-1 | 6-4 | 4-4-2 | 6.7 | 3.30 | 2.80 |
Betting Lines And Odds For Sabres Vs. Blue Jackets
Sabres vs Blue Jackets Betting Information

| Favorite | Favorite Moneyline | Underdog Moneyline | Spread | Total |
| --- | --- | --- | --- | --- |
| Sabres | -177 | +146 | BUF -1.5 | 7 |
Recent Meetings With The Blue Jackets
| Date | Favorite | Home Team | Spread | Total | Result |
| --- | --- | --- | --- | --- | --- |
| 2/28/2023 | Sabres | Sabres | -1.5 | 7.0 | 5-3 CBJ |
| 12/7/2022 | Sabres | Blue Jackets | -1.5 | 6.5 | 9-4 BUF |
Sabres Player Insights
Tage Thompson is first on Buffalo this season with 47 goals, while adding 47 assists to collect 94 total points.
Rasmus Dahlin's offensive output has resulted in 57 assists (first on the team) and 15 goals.
Dahlin has been called for 42 penalties this season (first in the NHL), and served 92 penalty minutes (15th in the NHL).
Ukko-Pekka Luukkonen has a 17-11-4 record in the net this season. He has given up 115 goals (3.6 goals against average) while saving 939 total shots for an .891 save percentage.
Mattias Samuelsson has a plus-14 to lead Buffalo.
Injuries For Buffalo Vs Columbus
| Player | Pos. | Injury | Status | Start Date |
| --- | --- | --- | --- | --- |
| Mattias Samuelsson | D | Undisclosed | Out | 4/12/2023 |
| Tage Thompson | RW | Upper Body | Out | 4/12/2023 |
| Vinnie Hinostroza | C | Personal | Out | 3/22/1970 |
Sabres Player Props
| Player | Prop Bet | Over/Under | Payout | Average Per Game |
| --- | --- | --- | --- | --- |
| Player | Prop Bet | Over/Under | Payout | Average Per Game |
| --- | --- | --- | --- | --- |
Sabres Upcoming Games
Sabres Upcoming Games

| Date | Opponent | H/A | Time | TV Channel |
| --- | --- | --- | --- | --- |
| Fri, Apr 14 | Columbus Blue Jackets | A | 4:30 PM | BSOH |
Powered By Data Skrive using data from
How To Bet on Sabres Games in New York
You can bet on or against the Sabres at online sportsbooks in New York by following these steps:
Click on any of the odds above to go directly to a legal sportsbook. You can either create your account right on the sportsbook or download the app and make your account on your phone.
Claim your new-player sportsbook promos.
Deposit funds into your account in addition (if desired).
Browse through the available Sabres bets. Clicking one will add it to your bet slip, and you can fill in the amount and place the bet from there.
Sabres Betting Lines Explained
Here's an example of a Sabres game line that you may find at an online sportsbook like FanDuel:
| | Puck Line | Moneyline | Totals |
| --- | --- | --- | --- |
| Buffalo Sabres | +1.5 (-135) | +225 | Over 5.5 (-110) |
| New York Rangers | -1.5 (+110) | -280 | Under 5.5 (-110) |
First, you see the 1.5-goal puck line. Puck line bets let you pick one side or the other with a standard 1.5 goal handicap factored into the final score. You may also find alternate puck lines at different odds. Here, you see the odds in parentheses next to the puck line.
These show that you can bet on the Sabres to lose by a single goal or win by any score at -135 odds. This means that a $135 bet would win a profit of $100 if correct. Alternatively, you could bet on the New York Rangers to win by two goals or more at +110, and you would stand to win a profit of $110 on a bet of $100.
Next, you see the moneyline. Here, you are just betting on one team or the other to win the game, regardless of the margin. In the example above, a $100 bet on the Sabres moneyline of +225 would win $225 if correct. Alternatively, a bet on the Rangers at -280 odds would pay $100 on a $280 bet.
Finally, you see the totals line with the odds in parentheses. This lets you bet on the total combined score by both teams. You can choose either over or under 5.5 goals. A correct bet on either side would pay out $100 on a wager of $110.
Sabres Vegas Odds vs. Online Odds
Here's a secret about sportsbooks: They copy one another's sports betting odds. That's why Sabres game lines will open at similar numbers at online sportsbooks in New York and swanky Las Vegas lounges. Of course, these lines might change by the time the puck drops.
All sportsbooks try to draw equal action on both sides of a bet. This lets them profit off the vigorish that they bake into the odds and not have to worry about the actual outcome of the game. If one side is drawing more money in bets, a sportsbook will move the line to try to even things out. Such a line change only affects that sportsbook, though. That's why a line might change in Vegas and not in New York, or vice versa.
Sabres Live/Prop Betting
New York sportsbooks feature NHL props, where you can bet on individual Sabres players or the team to achieve various stat lines. Plus, live betting lets you wager on an in-progress game at odds that change alongside everything happening on the ice.
This mostly includes the same bets available before the opening faceoff at odds that are in flux based on score, time, and momentum. However, live Buffalo Sabres betting also includes period-by-period bets and a bigger number of in-game props.
Recent Sabres Draft Picks
Here are the Buffalo Sabres' first-round picks over the past five years:
2022: 9 Matt Savoie (F), No. 16 Noah Ostlund (F), No. 28 Jiri Kulich (F).
2021: 1 Owen Power (D), No. 14 Isak Rosén (F)
2020: 8 Jack Quinn (F)
2019: 7 Dylan Cozens (F), No. 31 Ryan Johnson (D)
2018: 1 Rasmus Dahlin (D)
Sabres Greats
Here's a look at arguably the top five Sabres of all time:
Gilbert Perreault: First-ever Sabres draft pick and all-time leading goal scorer (512).
Dominik Hasek: Sabres' all-time leader in shutouts (55), save percentage (.926) and goals against average (2.22).
Pat LaFontaine: Sabres' all-time leader in goals per game (0.59), assists per game (0.85) and points per game (1.44).
Alexander Mogilny: Most goals ever in a single Sabres season when he netted 76 in 1992-93.
Dave Andreychuk: Legendary grit and determination plus the all-time Sabres leader in power play goals (161).
Sabres Coaching Staff
Here are the current Sabres coaching staff members:
Head coach: Don Granato (2021-22 record: 32-39-11)
Assistant coach: Mike Bales
Assistant coach: Jason Christie
Assistant coach: Matt Ellis
Assistant coach: Marty Wilford
Past Sabres Coaches
Prior to Don Granato, here is how the past few Sabres head coaches have fared:
| Coach | Tenure | Record |
| --- | --- | --- |
| Ralph Krueger | 2019-21 | 36-49-12 |
| Phil Housley | 2017-19 | 58-84-22 |
| Dan Bylsma | 2015-17 | 68-73-23 |
| Ted Nolan | 2013-15 | 40-87-17 |
| Ron Rolston | 2013 | 19-26-6 |
| Lindy Ruff | 1997-2013 | 571-432-162 |
| Ted Nolan | 1995-97 | 73-72-19 |
Buffalo Sabres Home Games
Name: KeyBank Center (formerly Marine Midland Arena (1996-2000), HSBC Arena (2000-11) and First Niagara Center (2011-16))
Address: 1 Seymour H. Knox III Plaza, Buffalo, NY
Owner: Erie County
Operator: Pegula Sports and Entertainment
Hockey Capacity: 19,070
Groundbreaking: Nov. 4, 1994
Opening date: Sept. 21, 1996
Construction cost: $127.5 million
Other tenants: Buffalo Bandits (NLL) (1996-present), Buffalo Blizzard (NPSL) (1996-2001), Buffalo Wings (RHI) (1997), Buffalo Destroyers (AFL) (1999-2003)
Previous home: Buffalo Memorial Auditorium (The Aud) (1970-96)
Sportsbooks/Bars Near KeyBank Center
Seneca Buffalo Creek Casino (Sportsbook)
1 Fulton St.
Buffalo, NY 14204
877-873-6322
Within a 10-minute walk of KeyBank Center
Cobblestone District (Nightlife and Entertainment District With Restaurants, Bars, and Lounges)
Illinois Street
Buffalo, NY 14203
716-200-1893
Behind parking garage next to KeyBank Center
The Draft Room Buffalo (Craft Beers and Classic Pub Food)
79 Perry St.
Buffalo, NY 14203
716-314-0303
Corner of Perry and Illinois across from KeyBank Center
Sabres Broadcasters
Sabres games air on MSG Western New York with Rick Jeanneret and Dan Dunleavy doing play-by-play and Rob Ray and Martin Biron doing color commentary. WGR is the Sabres' flagship radio station, with the same play-by-play and color teams.
How Can I Watch/Stream Sabres Games?
You can stream Sabres games online with a subscription via ESPN+.
Brief Sabres History
The Buffalo Sabres joined the NHL in 1970. They played at Buffalo Memorial Auditorium until KeyBank Center opened in 1996. The Sabres have been to two Stanley Cup Finals, losing to the Philadelphia Flyers in 1975 and the Dallas Stars in 1999. They've never won a Stanley Cup, making the Sabres the longest-running NHL franchise without a title, along with the Vancouver Canucks, who joined the NHL the same year.
The 1975 team that made the Stanley Cup Final was led by René Robert, Gilbert Perreault, and Rick Martin, who each totaled at least 95 points during the regular season and at least 13 points during the playoffs. The 1999 team was led by goalie Dominik Hasek, who posted 30 regular-season wins alongside 13 playoff wins. The Sabres were also competitive in the early 1990s behind the play of Alexander Mogilny, the first Soviet defector in the NHL, playmaker Pat LaFontaine, and Hasek.
The Sabres' first owners were Seymour H. Knox III and Northrup Knox, the grandsons of one of the founders of the F.W. Woolworth Co. Adelphia Communications founder John Rigas took over in 1996, but he was arrested and charged with fraud, and the NHL stripped him of his ownership of the team in 2002. The NHL owned the Sabres until Tom Golisano and Larry Quinn bought the team in 2003. In 2011, billionaire businessman Terry Pegula bought the Sabres, along with the Buffalo Bandits of the National Lacrosse League, for $189 million. In 2014, he also bought the NFL's Buffalo Bills.
Best Sabres Playoff Moment
The Sabres' greatest playoff moment came on May 20, 1975, in the Stanley Cup Final. René Robert scored in overtime to give the team a 5-4 win, the Sabres' first of the series against two losses. The Sabres also won Game 4 at the Aud but lost the next two games, dropping the series in six. You have to look hard, but you might see it through the fog on the ice in this clip: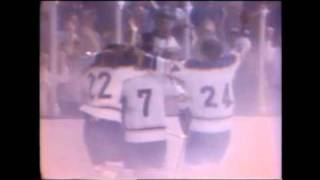 Sabres FAQ
Billionaire businessman Terry Pegula owns the Sabres, having bought the team — and Buffalo's pro lacrosse franchise — for $189 million in 2011. Pegula, who also owns the Buffalo Bills, made his money in natural gas and real estate.
The Forbes Business of Hockey list has the Buffalo Sabres as the 30th most valuable NHL franchise, worth $610 million.
The average ticket price for Sabres games at KeyBank Center is about $53 and can be found as low as $16.
The Buffalo Sabres have been to the playoffs 29 times in the team's 50 seasons. However, they haven't been to the playoffs since 2011 and have never won a Stanley Cup.
The Sabres have retired seven jersey numbers:
Dominik Hasek (39)
Gilbert Perreault (11)
Rick Martin (7)
René Robert (14)
Tim Horton (2)
Danny Gare (18)
Pat LaFontaine (16)
Ryan Miller (30)
The Buffalo Sabres run the @BuffaloSabres Twitter account.