US Open Tennis Betting Sites
The US Open, held annually at the USTA Billie Jean King National Tennis Center in New York City, is one of the top attractions on the late summer sports calendar.
The top pros on both the men's and women's side descend on NY, and the end result is typically tons of thrills and exciting action. It's a huge test of endurance and skill, and those who go the distance to win it all earn their spots in the annals of tennis history.
Betting on tennis matches can be lots of fun and potentially profitable, but if you're new to the game, you may have some questions. Below see our complete guide to betting on the US Open in New York.
Latest US Open tennis odds
Check out the latest US Open tennis odds and lines at the following top NY sportsbooks. Click on any sportsbook to claim your bonus and get started,
Rank
Sportsbooks
Bonus
Feature
Play
Up To $100 in Bet Credits
ONLY 1x Play Through!

Use Exclusive Affiliate Code: PLAYNY
Up to $150 in Bonus Bets if Your Team Wins
Available on Desktop, Android & iOS

To Claim: Click Play Now

AROUND THE CLOCK ODDS
Use Bonus Code: PLAYNY
Redeem MGM Rewards

Exclusive Vegas Discount!
Free Live Streaming - Watch Live Games
Use Bonus Code: PLAYNY
US Open tennis betting in NY
There are plenty of ways to wager on the US Open Tennis Championships now that online sports betting is legal in NY. Here's how to get started.
Access one of our recommended shops to create an account by clicking one of our links.
Enter your information as prompted, check off some boxes and click submit to complete the registration process.
Find the spot to download the app for your device directly from the sportsbook website and log in on mobile when done.
Claim your sportsbook bonus offer or make your first deposit, and get ready to place your wagers.
You can complete all of the above at home. In order to place bets, you have to be within the borders of a legal online betting state. Books use geolocation technology to verify your location, so you won't be able to bet if you're not there.
How tennis betting works
There are several ways to bet on the US Open. You can make your calls on who will win the tournament, focus on the individual matches and much more. When you click on the tennis link at online sportsbooks, current and upcoming offerings will display. Here are the top ways to bet:
To win
This is the wager you place on players to win the whole thing. There will be odds for everyone in the field on the men's and women's side of the draw.
To win the US Open

Novak Djokovic +300
Daniil Medvedev +500
Dominic Thiem +700
Matches
Through each round of the tournament, you can place your bets on the individual matches. Odds for these bets work like a standard moneyline wager.
Ashleigh Barty            -140
Madison Keys             +115
Spreads
The point spread betting element comes into play for tennis with sets and games. You can bet on the favorite minus the number or take the underdog plus the spread.
Naomi Osaka              -3.5 games
Bianca Andreescu     +3.5 games
Totals
A total bet works just like an over/under bet that you'll find in other sports. Oddsmakers set the bar, which can be based on sets or games.
Over 3.5 sets              -115
Under 3.5 sets            +105
Props
These are side wagers on the matches that you can find by clicking on the main bet listing.
Will a tiebreaker be necessary?
Live betting
You can bet in real time as the matches play out. It's a fast-moving market as you can bet on things like games and points.
Player to win next game in match:

Rafael Nadal -135
Alexander Zverev +125
Live betting has been a big part of the reason why there has been such a surge of interest in wagering on tennis. Apps are the best way to get involved here as you can watch the match while glancing at your device to see what odds pop up. There's typically a dedicated section where you can view current live betting options.
Tennis betting odds and lines explained
There will be odds and lines for all bets, but they'll naturally vary based on what you are looking at. For the individual matches, it's a standard moneyline listing, while a wager with multiple choices to consider will look like something out of the futures market. Let's take a closer look at the odds for a match with the following example.
Serena Williams -115
Victoria Azarenka +105
For this match, Williams is a slight favorite over Azarenka, which we can tell by the direction of the odds: negative for favorites and positive for underdogs. Once you make your choice, you simply click on the odds for that selection. It goes onto the betting slip, where you add in the amount you want to wager, verify that everything is good to go and click submit to place your bet.
The book will display the potential return from your wagering amount, but you can also ballpark with a simple glance at the odds. For negative odds, that's how much you have to wager to get $100 back, as in $115 at -115. Positive odds indicate the return for a winning $100 bet, such as $105 at +105.
The outright winner bets will have multiple choices to consider. There are odds for all the players in the field, ranging from the favorites to the long shots. A few of the mid-range selections may have odds that look like this.
Stefanos Tsitsipas +1200
Andrey Rublev +1400
Milos Raonic +3300
Bets work the same in that you click on the odds for your choice and proceed from there. Outright winner bets can be quite lucrative, but they can also be challenging to hit. Regardless of how you want to bet on the US Open and tennis in general, take the time to shop around for the best possible odds to enhance your potential winnings.
US Open futures betting
The futures market for tennis Grand Slam events stays active all year round. Soon after the current edition of the US Open is in the books, sportsbooks will release odds on the winner of the next one. There will be odds for all players the sportsbooks expect to compete at the event, and the market will shift from there in response to betting action.
When betting on futures, you have to have a longer-range view, as you can't cash winning tickets until the outcome is final. Additionally, odds may be different across the market, so you'll want to shop around and compare prices. A few ticks of difference may not seem like much, but it all adds up.
Futures are a great way to look ahead and get a feel for the overall market perception of players. You can check back often to see the ebbs and flows in prices. Many bettors do just that and look for the perfect spot to pounce on the players they're interested in. We'll take a closer look at the current US Open futures market in a bit.
Does Vegas have the best US Open odds?
It wasn't all that long ago that the odds from Las Vegas served as the first and last word for the US Open and all other sporting events. Things have changed dramatically, however. Sports betting is now legal in a growing number of states, including here in New York. The odds from the local shops stack up just fine in comparison to what comes out of the desert.
Information is readily accessible these days. You can compare the numbers from area sportsbooks in an instant with our live odds tool. Elsewhere on the web, you can pull the latest US Open tennis betting odds from Sin City. If you compare what you find in the two spots, there's a good chance you'll be pretty pleased with what's locally available to you.
Naturally, you're going to find ticks of difference here and there due to market action. There might be more appealing odds on one US Open match out in Vegas, while the numbers here at home are better for others. On an overall basis, rest assured that the numbers are very comparable and generally on point here in NY.
House rules for tennis betting
All sportsbooks have house rules in place for tennis and other sports. The rules cover what you need to know about placing bets, how they're settled and other circumstances that could impact wagering. Here are some of the top points to keep in mind.
Bets will remain live regardless of any changes to surface, venue or conditions. Once the ball is in play, bets on that match are active.
If the tournament is canceled due to unforeseen circumstances, sportsbooks will consider all wagers void and refund them.
The settlement of wagers is based on official data and statistics from the US Open.
Match bets generally require at least one set to be played before they are official.
While that covers the basic gist, it's still important to review the rules in detail at the sites you play on. Player disqualifications and walkovers are two specific areas to dig into, as the exact rules may vary. If there's not a dedicated rules section at your book, check the FAQ or help sections.
Legal vs. offshore online betting sites
Here in the US, the popularity of online and mobile tennis betting continues to surge. Despite that, there's still an active black market for wagering, including via offshore sites. These are operators that set up shop outside of US jurisdiction. As such, they're not subject to the same laws and regulations that the legal shops adhere to.
There are simply no protections in place for consumers. Your funds will be at risk, and there's no path toward resolution should trouble ever arise. Offshore sites can disappear overnight and take funds with them. Unfortunately, this is a situation that has happened to unsuspecting users in the past.
Legal shops have strict rules that they have to adhere to before they can start operating in a state. They invest heavily to get to that point. Moving forward, they have state gambling authorities to answer to. In short, things are on the up and up with legal and regulated sportsbooks.
US Open dates and where to watch
This year's US Open is slated for its usual late summer window. Anticipation is high for the annual affair in NYC, so we can expect tickets to be highly sought after. Over on TV, viewership numbers are solid as well, naturally spiking when the marquee players are on the court and as the tourney advances. Here are the key details:
When: Late August/Early September
Where: USTA Billie Jean King National Tennis Center in New York City
Type of surface: Hard court
Total prize pool: $57.5 million in 2021
First held: 1881
Broadcast coverage of the US Open is on ESPN. You'll find extensive coverage on that family of networks, with the Tennis Channel also dipping in for highlights and previews. ESPN is a staple of numerous cable, satellite and streaming packages, while the Tennis Channel is typically an add-on.
On the mobile side, the ESPN app will provide coverage, but you'll need to have valid sign-in credentials from your provider in order to use it. The app is scheduled to provide a feed from 11 a.m. to 11 p.m. daily during the tournament when the matches are going on.
5 best US Open moments of all time
US Open history is filled with electrifying performances and thrilling moments. Naturally, many of the biggest memories have been created when the stakes were highest. Fans have been treated to dozens of stellar final matches through the years, but some stand out even more than others. Here's a look back at five of the best.
1979 — 16-year-old Tracy Austin defeats Chris Evert
Evert was in her prime. The four-time defending champ was expected to add to her hardware collection, but the young upstart had other ideas. Austin won the crown with a straight-set victory in the final, winning the first of her two US Open titles.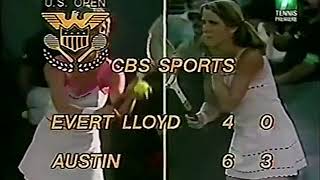 1980 — John McEnroe defeats Bjorn Borg in five sets
Rivalries are a huge part of tennis lore, and they don't get any bigger than this one. When McEnroe and Borg stepped on the court together, something special was bound to happen. This five-set classic is often hailed as the greatest match of all time.
2001 — Venus over Serena in the final
From 1997 through 2002, the Williams sisters dominated the US Open, racking up four titles and accounting for seven of 12 possible women's final appearances. In 2001, Venus successfully defended her crown with a two-set win over Serena.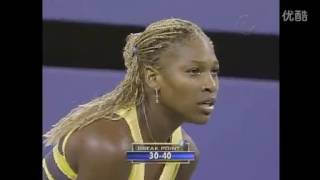 2002 — Pete Sampras closes career with win over rival Andre Agassi
A storybook ending to a legendary career with a thrilling win over one of your biggest rivals? Pete Sampras lived it. A five-time US Open champ, his four-set victory over Agassi stands as one of the finest accomplishments for one of the legends of the sport.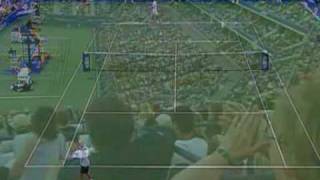 2009 — Juan Martin del Potro stuns Roger Federer
After Federer had won five consecutive US Open finals, conventional wisdom said a sixth was coming when he took the court against del Potro. That would prove to be off the mark as del Potro won his first and only slam in a five-set thriller.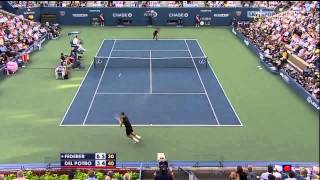 Handicapping the US Open
Once you get started with betting on tennis, you'll find that there are lots of parallels to wagering on other sports. There are moneyline, spread and totals elements, as well as futures, props and live betting. Standard handicapping principles apply, but there are also some specific things to look through when the US Open is on tap.
Head-to-head and venue performance: Players on the ATP & WTA circuits cross paths often, so take the time to see if there is any history to glean when breaking down a matchup. Additionally, you'll want to know how the players perform on the surface at hand. While some players excel on the hard court, other games are better suited to different playing surfaces.
Player track record in Grand Slams: This is a huge stage. It'll bring out the best in some and the worst in others. For a complete picture on all of the players you are interested in wagering on, consider their track record at the US Open and other slams. The past is no guarantee of the future, but it can hold clues on what may be to come.
Consider the draw and look ahead: Once the draw is announced, you'll need to completely assess the field and look for potential trouble spots for your targeted players. Some opponents can just be matchup nightmares, while you may be able to pencil in some wins in other spots. The draw gives you a clear outline of what's ahead, so study it wisely.
Also, keep in mind that you don't have to wait for the US Open to jump into the tennis betting pool. In fact, getting up to speed with some of the smaller events can be very beneficial. It can take some time to get comfortable, so taking the time to learn how it all works and to get your research process down can work wonders by the time the US Open rolls around.
US Open tennis history
The first edition of the US Open took place back in 1881. Tennis has gone through some significant changes in the century-plus since that point, most notably with the shift to the "open era" in 1968. Pros and amateurs were no longer separated at the slams from that point onward, so it's generally referred to as the modern era of the sport.
On both the men's and women's side, there's a tie atop the leaderboard for most US Open titles in the modern era. Here's what the top of the chart looks like for the men.
5 — Jimmy Connors, Roger Federer and Pete Sampras
4 — John McEnroe and Rafael Nadal
3 — Novak Djokovic and Ivan Lendl
The list reads like a who's who of the sport over the last several decades, and it's the same story for the ladies. Here are the top US Open title winners on that side of the draw.
6 — Chris Evert and Serena Williams
5 — Steffi Graf
4 — Martina Navratilova