Bringing the Stanley Cup home is the goal for all of the NHL's 32 teams. Naturally, some have a much better shot than others each season. There are a lot of ways to bet on the Stanley Cup Playoffs. Here's what you need to know about betting on the NHL postseason in New York
NHL Stanley Cup Odds
Below, find current futures odds for the next Stanley Cup winner. Click on any odds to go directly to the sportsbook, claim your bonus, and get your bets in. Check our NHL odds feed for real-time Stanley Cup game odds.
How Do the NHL Playoffs Work?
The NHL postseason follows its usual format: 16 teams qualify, eight each from the Eastern and Western Conference.
The top three teams in each of the six divisions receive a berth, along with the two wild card teams with the next best records in each conference.
The playoffs are set up in a bracket-style format with the top seed meeting the lowest seed and so on. Each series is contested in a best-of-seven format with the first team to win four games advancing to the next round.
The final two teams in the two conferences square off in the conference finals to determine who will play in the Stanley Cup Final, which is also a best-of-seven series.
Types of Playoffs/Stanley Cup Bets
The Stanley Cup Playoffs are a fun and exciting time. It also means there's great excitement around New York sports betting on the postseason. There are plenty of ways to get involved if you want something extra to root for come playoff time.
Futures: You can make futures bets basically at any time. Odds are usually released in the offseason, and you can bet then, throughout the regular season and into the playoffs. You might bet a team to win the Stanley Cup or a team to win its conference or division. The earlier you get involved, the better chance you have of getting more advantageous odds. Above, you can check out the NHL futures feed so you can get ahead of the game.
Individual game bets: You can bet on playoff games just like you would any normal hockey game. There are three major betting markets in hockey: the moneyline, the puck line, and the total. When you bet the moneyline, you're simply betting on which team you think will win the game. Odds are set based on the probability of each team winning a given game. Puck line betting requires a bit more nuance, as you're betting on whether you think the favorite can win by at least two goals, or whether the underdog can either win the game or keep it close. Totals betting is simple. You're betting on whether the two teams will combine to score more or fewer goals than the listed number.
Series bets: A series bet is self-explanatory. You are betting on which team you think will win the series. Individual games don't matter as long as the team you bet on to win the series advances to the next round. This is a way to bet on a team to advance without worrying about game-to-game swings.
Live betting: If the game has already started, it doesn't mean it's too late to get in on the action. With live betting, you can bet on games with the sports odds having been adjusted for what's already happened in the game. This is a great opportunity to maximize your profit if you're calculated.
You can find out more about these types of bets and others at our NHL betting page.
How To Bet on NHL Playoffs in New York
Sports betting is now widely available and legal in New York. Stanley Cup betting via your favorite New York sportsbook app is a great convenience, as you can bet on the NHL playoffs from wherever you are in the state. You can manage your account, research the lines, and get your bets in right from your device.
How to Register a New Sportsbook Account
To register a new account with a sportsbook, you must first decide which sportsbook you'd like to use. On this page, you'll see odds and promotions that you can use to help make your decision. Once you've found a sportsbook that interests you, click any of the links on this page.
Once you've done that, you need to register an account. Enter your email address and select a secure password. Don't forget to input any necessary information such as your birthday.
Once you've registered an account, head over to the app store and download the app for the sportsbook you signed up with. These apps make it easy to bet wherever you are in the state.
Once you've signed up and downloaded the app, make sure to claim any bonus bets or site credits that you are eligible for.
If you need to deposit money into your account, use any of the available deposit methods to fund your account. Once you've done that, you're ready to place your bets!
Biggest Tips for NHL Playoff Betting
Don't be afraid to bet underdogs. Unlike sports like football and basketball where big upsets are rare, they happen all the time in hockey. The Tampa Bay Lightning had a record-setting regular season in 2019, losing just 20 of their 82 games. They were swept in the first round of the playoffs by the Columbus Blue Jackets, a team that barely qualified for the playoffs. While it may not feel great betting against the elite teams, you have a chance to get a major payout.
Don't overvalue home-ice advantage. Sure, it's a positive thing to be in your building and in front of your fans. That advantage is already included in the odds. Don't add even more value on top of the value the sportsbook is already giving a home-ice advantage. Road teams win games all the time, and if you pick the right spot, you can make good money.
Game Seven scoring is hard to come by. Teams are afraid to make mistakes, so they tend to play safe, defensive-minded hockey. These players know that one mistake could cost them their season in a win-or-go-home game. Unders in Game Sevens hit at a high rate.
How to Stream/Watch the Stanley Cup Playoffs
The first round of the Stanley Cup Playoffs is broadcast on both national TV and regional networks. If the Devils, Rangers, or Islanders make the playoffs, you can watch their games on MSG Networks. You can also stream the games on the MSG Go app if you login with your cable provider credentials.
After the first round of the playoffs, the remaining rounds are broadcast nationally on ABC, ESPN, ESPN2, TNT, and TBS.
Stanley Cup Results for Last Ten Years
Here are the results of the Stanley Cup Final over the past 10 seasons:
| Year | Winner | Runner-up | Series Score |
| --- | --- | --- | --- |
| 2021-22 | Colorado Avalanche | Tampa Bay Lightning | 4-2 |
| 2020-21 | Tampa Bay Lightning | Montreal Canadiens | 4-1 |
| 2019-20 | Tampa Bay Lightning | Dallas Stars | 4-2 |
| 2018-19 | St. Louis Blues | Boston Bruins | 4-3 |
| 2017-18 | Washington Capitals | Vegas Golden Knights | 4-1 |
| 2016-17 | Pittsburgh Penguins | Nashville Predators | 4-2 |
| 2015-16 | Pittsburgh Penguins | San Jose Sharks | 4-2 |
| 2014-15 | Chicago Blackhawks | Tampa Bay Lightning | 4-2 |
| 2013-14 | Los Angeles Kings | New York Rangers | 4-1 |
| 2012-13 | Chicago Blackhawks | Boston Bruins | 4-2 |
What Is the Lowest Seed to Ever Win the Stanley Cup?
The Los Angeles Kings won the Stanley Cup as a No. 8 in 2012. They barely qualified and were the last team in the Western Conference playoff field.
Los Angeles then proceeded to eliminate the Western Conference Champion and Presidents' Trophy-winning Vancouver Canucks in five games in the first round. The Kings then swept the two seed, St. Louis, in the Conference semi-final.
In the Conference Final, Los Angeles made quick work of the Phoenix Coyotes, eliminating them in five games. In the Stanley Cup Final, Los Angeles beat the New Jersey Devils in six games.
Biggest Rangers Playoffs Moments
1994 Stanley Cup Final Game Seven: After Mark Messier guaranteed and delivered victory in Game Six of the Eastern Conference Finals, it once again came down to Game Seven in the Stanley Cup Final against the Vancouver Canucks. Brian Leetch, Messier, and Adam Graves all scored and the Rangers broke a 54-year drought.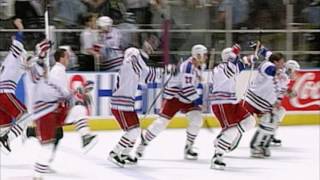 1994 Eastern Conference Final Game Seven: Stephane Matteau scored late in double overtime to send the Rangers to the Stanley Cup Final. What happened in the Final makes this moment even bigger.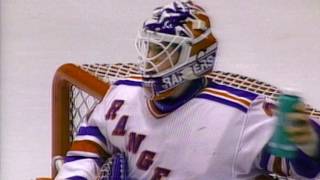 2014 Eastern Conference Final Game Six: Henrik Lundqvist posted a shutout and Dominic Moore scored the lone goal for New York, as they advanced to the Stanley Cup Final for the first time in 20 years.