Thursday Night Football Odds and Lines
Once upon a time, the only time you would find the NFL on Thursdays would be annual Thanksgiving games. That began to change with the occasional Thursday Night Football game here and there. Not too long after the turn of the century, TNF became a fixture of the NFL schedule.
During the regular season, it serves as the kickoff for another exciting week of action. The NFL is the biggest game in town at sportsbooks, and action is always through the roof for primetime tilts. The introduction of NY online sports betting means that we can all get in on the fun legally and safely like never before.
We'll explain how you can get up and running in no time in a bit, and also cover everything else you need to know about one of the biggest highlights of the weekly NFL schedule. Join us for our complete guide to betting on Thursday Night Football in NY.
This week's Thursday night football odds
How to bet on Thursday Night Football in New York
To bet on spots with legal online NY sportsbooks, users must be 21 or older. You have to register for an account, but it's a quick and painless process. Here's how to do it.
Click on one of our links to create an account with a top sportsbook, qualifying you for any sign-up offers.
Follow the prompts and complete the entire registration process.
Once you've created your account, download the app for your device from the sportsbook website and log in.
Make your first deposit and start researching the Thursday Night Football betting lines.
In order for your bets to go through, sites have to verify that you're within the borders of a legal state. To do so, they use geolocation technology. If you're not in NY, your bets won't go through, but you can manage your account when out of state as needed.
Who's playing Thursday Night Football this week?
Each season, NFL schedule-makers have the daunting task of scheduling games into a format that makes sense while also having an eye toward broadcasting agreements with network partners. The ultimate goal is for things to be balanced, and they do a solid job overall. Here's how the 2021 schedule shakes out.
Week 1: Sept. 9 – Dallas Cowboys vs. Tampa Bay Buccaneers
Week 2: Sept. 16 – Washington Football Team vs. New York Giants
Week 3: Sept. 23 – Houston Texans vs. Carolina Panthers
Week 4: Sept. 30 – Cincinnati Bengals vs. Jacksonville Jaguars
Week 5: Oct. 7 – Seattle Seahawks vs. Los Angeles Rams
Week 6: Oct. 14 – Philadelphia Eagles vs. Tampa Bay Buccaneers
Week 7: Oct. 21 – Cleveland Browns vs. Denver Broncos
Week 8: Oct. 28 – Arizona Cardinals vs. Green Bay Packers
Week 9: Nov. 4 – Indianapolis Colts vs. New York Jets
Week 10: Nov. 11 – Miami Dolphins vs. Baltimore Ravens
Week 11: Nov. 18 – New England Patriots vs. Atlanta Falcons
Week 12: Nov. 25 – Buffalo Bills vs. New Orleans Saints
Week 13: Dec. 2 – New Orleans Saints vs. Dallas Cowboys
Week 14: Dec. 9 – Minnesota Vikings vs. Pittsburgh Steelers
Week 15: Dec. 16 – Los Angeles Chargers vs. Kansas City Chiefs
Week 16: Dec. 23 – Tennessee Titans vs. San Francisco 49ers
For the primetime games, the top clubs in the league will naturally see more time under the lights than the poorer squads. For TNF, the majority of the 32 squads will have at least one appearance, and sometimes the stars align for them all to do so. Here's how the schedule shook out for the 2020 campaign.
| Date | Road | Home | Result |
| --- | --- | --- | --- |
| Wk1 - Sept. 10 | Houston Texans | Kansas City Chiefs | Chiefs 34-20 |
| Wk2 - Sept. 17 | Cincinnati Bengals | Cleveland Browns | Browns 35-30 |
| Wk3 - Sept. 24 | Miami Dolphins | Jacksonville Jaguars | Dolphins 31-13 |
| Wk4 - Oct. 1 | Denver Broncos | New York Jets | Broncos 37-28 |
| Wk5 - Oct. 8 | Tampa Bay Buccaneers | Chicago Bears | Bears 20-19 |
| Wk6 - Oct. 19 | Kansas City Chiefs | Buffalo Bills | Chiefs 26-17 |
| Wk7 - Oct. 22 | New York Giants | Philadelphia Eagles | Eagles 22-21 |
| Wk8 - Oct. 29 | Atlanta Falcons | Carolina Panthers | Falcons 25-17 |
| Wk9 - Nov. 5 | Green Bay Packers | San Fancisco 49ers | Packers 34-17 |
| Wk10 - Nov. 12 | Indianapolis Colts | Tennessee Titans | Colts 34-17 |
| Wk11 - Nov. 19 | Arizona Cardinals | Seattle Seahawks | Seahawks 28-21 |
| Wk12 - Dec. 2 | Baltimore Ravens | Pittsburgh Steelers | Steelers 19-14 |
| Wk13 - Dec. 8 | Baltimore Ravens | Dallas Cowboys | Ravens 34-17 |
| Wk14 - Dec. 10 | New England Patriots | Los Angeles Rams | Rams 24-3 |
| Wk15 - Dec. 17 | Los Angeles Chargers | Las Vegas Raiders | Chargers 30-27 OT |
| Wk16 - Dec. 25 | Minnesota Vikings | New Orleans Saints | Saints 52-33 |
There were a couple of wrinkles in the 2020 season because of postponements, so several TNF games took place on other days. Also, the Christmas Day game actually fell on Friday, but it was still considered under the TNF banner.
Are the Giants playing on TNF this season?
The New York Giants will get their turn on TNF in Week 2 when they take on the Washington Football Team. Here's a look at the results from their past three appearances.
Oct. 22, 2020 — Giants at Philadelphia Eagles, Eagles 22-21
Oct. 10, 2019 — Giants at New England Patriots, Patriots 35-14
Oct. 11, 2018 — Philadelphia Eagles at Giants, Eagles 34-13
Are the Jets playing on TNF this season?
The New York Jets get the TNF treatment in Week 9 for a date with the Indianapolis Colts. Here's how the team fared the last three times out on TNF.
Oct. 1, 2020 — Denver Broncos at Jets, Broncos 37-28
Dec. 12, 2019 — Jets at Baltimore Ravens, Ravens 42-21
Sept. 20, 2018 — Jets at Cleveland Browns, Browns 21-17
Are the Bills playing on TNF this season?
The Buffalo Bills will be playing on TNF on Thanksgiving night when they travel to New Orleans to take on the Saints. Looking back over the last three times in this time slot, here's how the team did.
Oct. 19, 2020 — Kansas City Chiefs at Buffalo Bills, Chiefs 26-17
Nov. 2, 2017 — Bills at New York Jets, Jets 34-21
Sept. 15, 2016 — Bills at New York Jets, Jets 37-31
Thursday Night Football live betting
Thursday night games attract plenty of betting action in advance of kickoff, but it doesn't end there. You can live bet in real time as the game plays out. Live betting is incredibly popular for NFL primetime games, and apps from the top shops are built to handle the demand. Here are some of the opportunities you might come across.
Latest game lines based on what's happening.
Chances to bet on segments of the game — quarters, halves, drives.
Various player, team and game prop betting scenarios.
When you have a sports betting app, you can log in at kickoff and view the available live betting markets. This section will continue to update as the game moves along. Offerings will go by quickly, with odds updating in an instant, but there will be plenty of chances for you to get involved. Apps are the perfect complement to TNF and betting in general.
Tips and trends to watch for Thursday Night Football
When Thursday Night Football became a staple of the NFL schedule, it threw a new wrinkle into the handicapping equation. Since teams were accustomed to having a full week between games, plenty of questions rose about how they would respond to a short week. The debate still rages to this day.
There's a school of thought that says the home team has an automatic edge on TNF. That's certainly true to an extent as home teams won't have to spend any time traveling and will thus have more time to get ready for the game. However, not all home teams are created equal, so it really needs to be treated on a case-by-case basis.
That's true for all contests throughout the NFL season, but there are still some specific things to watch for. Here are some key details to consider as you break down the Thursday night games.
Travel, rest and schedule: There's no way around it: The short week is a factor. This is especially true for teams that are banged up or have a long road trip ahead. When approaching the game, be sure to factor all of these different facets into your thinking to determine if they may impact the proceedings.
Overall team strength: A stronger overall team should be able to handle what lies ahead no matter what. That's not true for the weaker squads in the league. For example, if a poor team is hitting the road to take on a powerhouse, lean toward the home side unless there's something glaring pointing you in the opposite direction.
Coaching: The same applies for the better coaches in the league. A short week of prep isn't as much of an issue for coaches on the ball, while those who are struggling could be in for a rough time getting the team ready. This is an under-appreciated facet that can certainly impact what happens on TNF.
Primetime performance: Certain clubs shine under the bright lights, while others just aren't built for primetime. As part of your research, be sure to spend some time researching the performance of both sides in night games. That said, keep in mind that even the poorer squads can step it up when the eyes of the league are upon them.
Season-to-date trends: Each season, there are teams that crush it on various metrics, whether it's against the spread, as a road team or on totals. When considering where to wager, look at the complete picture including the team's record in various situations and for the top bet types for the season to date.
Also, keep in mind that there's no need to force it just because there's a game on TV. If you can't get a good read on your favorite bet type, take a pass on that and see if there are other options to explore. For example, if you can't make heads or tails of the spread but think a particular player may have a big game, you could decide to shift to Thursday Night Football prop bets instead.
What time is kickoff for Thursday Night Football?
Thursday Night Football games get underway at 8:20 p.m. ET. There's plenty of pregame coverage available in advance of the game on the outlet that's broadcasting it, as well as extensive previews throughout the day on various sports channels. The only exception to kickoff time would come if the game was postponed or on a different day entirely.
That actually happened a couple of times in 2020 as a pair of scheduled TNF games were moved forward, one to Monday and the other to Tuesday. Also, a game may be broadcast under the overall umbrella of TNF while actually taking place on another day. For example, a trio of Saturday games in Week 16 were actually considered part of the overall TNF schedule.
How to watch or stream Thursday Night Football in NY
Thursday Night Football games are a top highlight of the weekly NFL schedule, so you won't have any trouble locating the contests on TV. The majority of the TNF slate appears on a combination of FOX, NFL Network, and Amazon Prime. The exceptions are the season-opening affair and the Thanksgiving game, both of which are on NBC.
As the main network, Fox is available on a host of cable, satellite, and streaming packages. In some spots, a simple digital antenna will pick up the channel and the feed. NFL Network is typically a subscription add-on, but you should confirm availability before signing up for any packages.
Amazon Prime is a separate subscription service that you can stream independently. The NFL app and Yahoo Sports also offer mobile coverage of select primetime and local games, but it's wise to confirm the game you want to watch will be available before planning to view it in that fashion.
Best TNF moments of all-time
When Thursday Night Football first became a thing, many critics raised eyebrows and observed that the short week would translate into sloppy football. Through the years, there have been some games that have justified that argument, but that chatter has died down for the most part.
There may be a snooze-fest here or there or an outright bad game, but that can happen at any time in the NFL. The overall sum of the parts for TNF is actually quite good. It's a fixture on the schedule, and teams across the league have adapted as a result.
Each season, there are some TNF games that really stand out while some others might not be all that great. Every contest can't be an instant classic, but we have been treated to several of them throughout TNF history. Here's a look at a trio of the most memorable.
Dec. 29, 2007 — Patriots over Giants, 38-35
The New England Patriots were pushing toward an undefeated regular season, while the Giants were battling for a playoff spot. The underdog New York side gave the powerhouse from New England all it could handle. The Patriots escaped with a three-point win, but this game would loom large just a few weeks down the road as the Giants pulled off a stunning upset over to win Super Bowl XLII.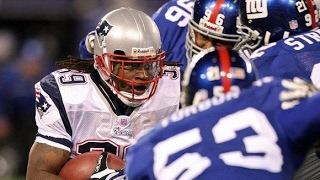 Dec. 1, 2011 — Seahawks over Eagles, 31-14
There wasn't much to be excited about heading into this game, as it was the 3-7 Seattle Seahawks playing host to the 5-6 Philadelphia Eagles. However, fans were treated to a moment that would go on to become a viral and commercial sensation. After plowing through for an impressive TD run, cameras caught Marshawn Lynch munching on some Skittles on the Seattle sidelines.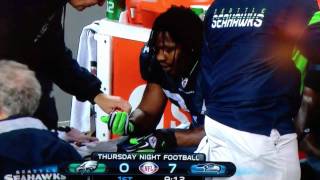 Sept. 21, 2017 — Rams over 49ers, 41-39
Many fans were lamenting what appeared to be a game between two lesser clubs, but it would turn out to be one of the more entertaining contests of the entire 2017 season. Todd Gurley of the Rams had himself a night with three total scores as Los Angeles won a thrilling shootout by a score of 41-39. San Francisco kept the game interesting right up until the end by scoring 19 points in a wild fourth quarter.